Collaboration
Bring your team together. Discuss projects, share ideas, and get work done in real time.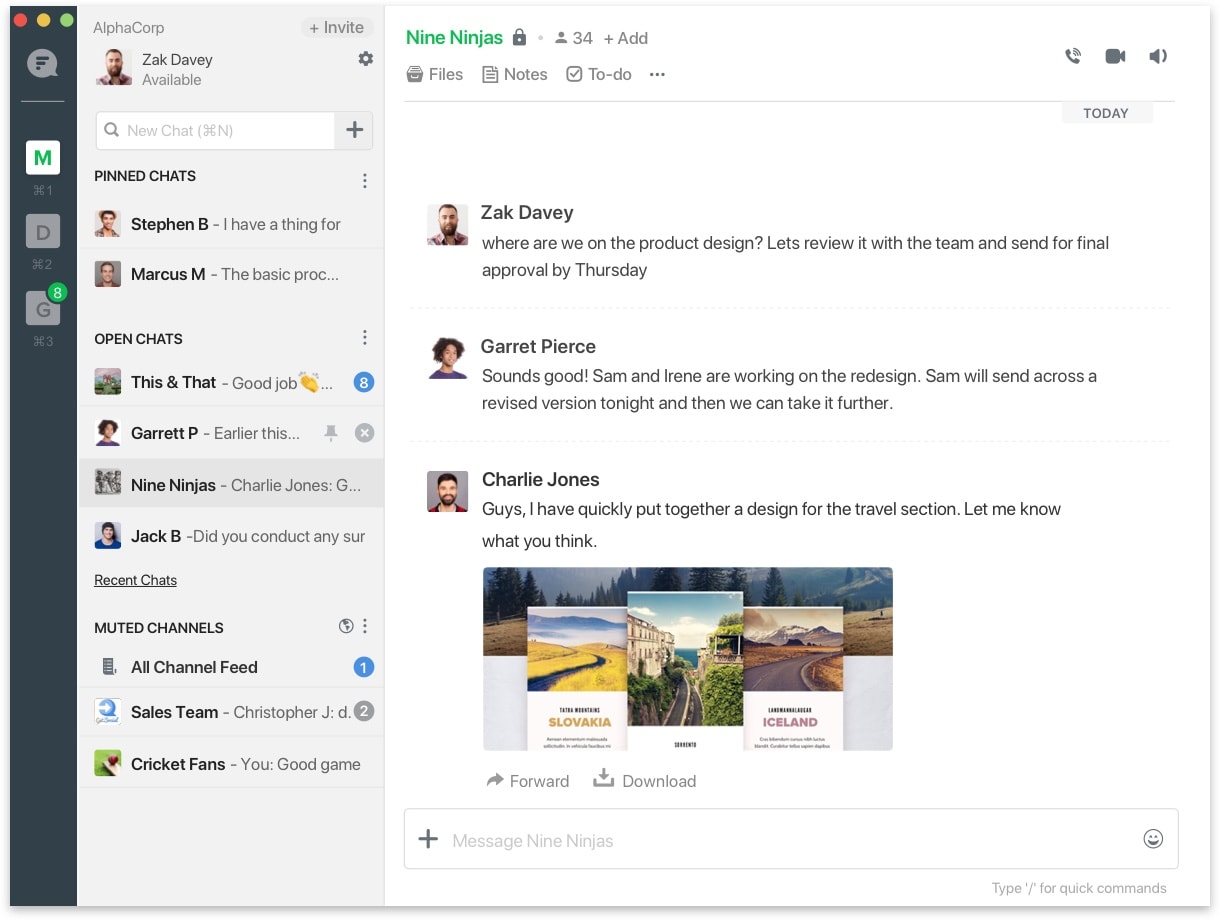 Collaboration
Start a direct chat or group conversation with anyone
With the entire company directory at your fingertips, you can begin a chat with just about anyone. Or, simply create a channel and get everyone to share their ideas. Use a private channel for focused discussions, or a public one to let your teammates easily discover and join meaningful conversations.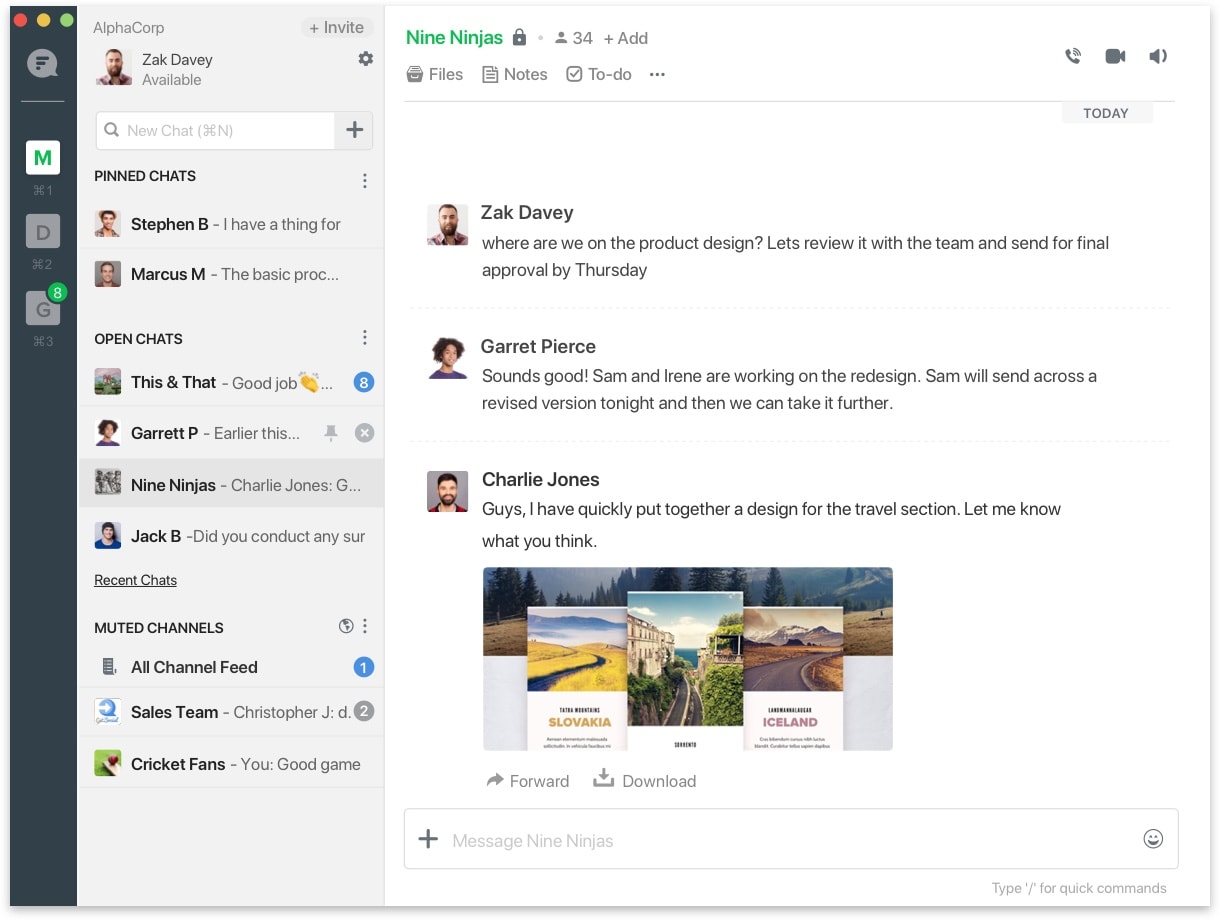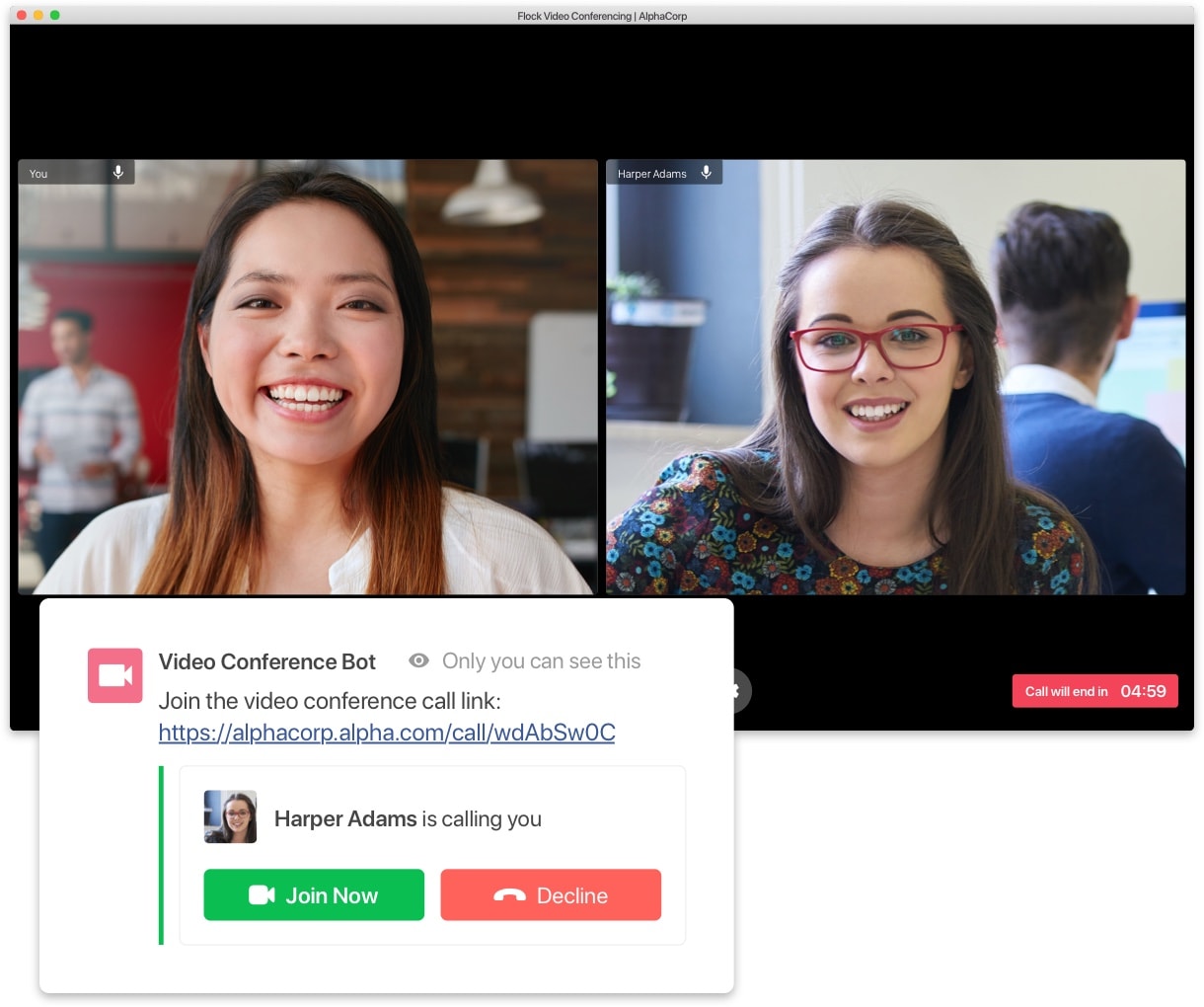 Collaboration
Jump onto video calls with just a click
With Flock's video conferencing tool, it's easy to connect with remote teams. Get on a video call directly from within a chat or channel and share your screen to get into details. Keep everyone on the same page - even on the go.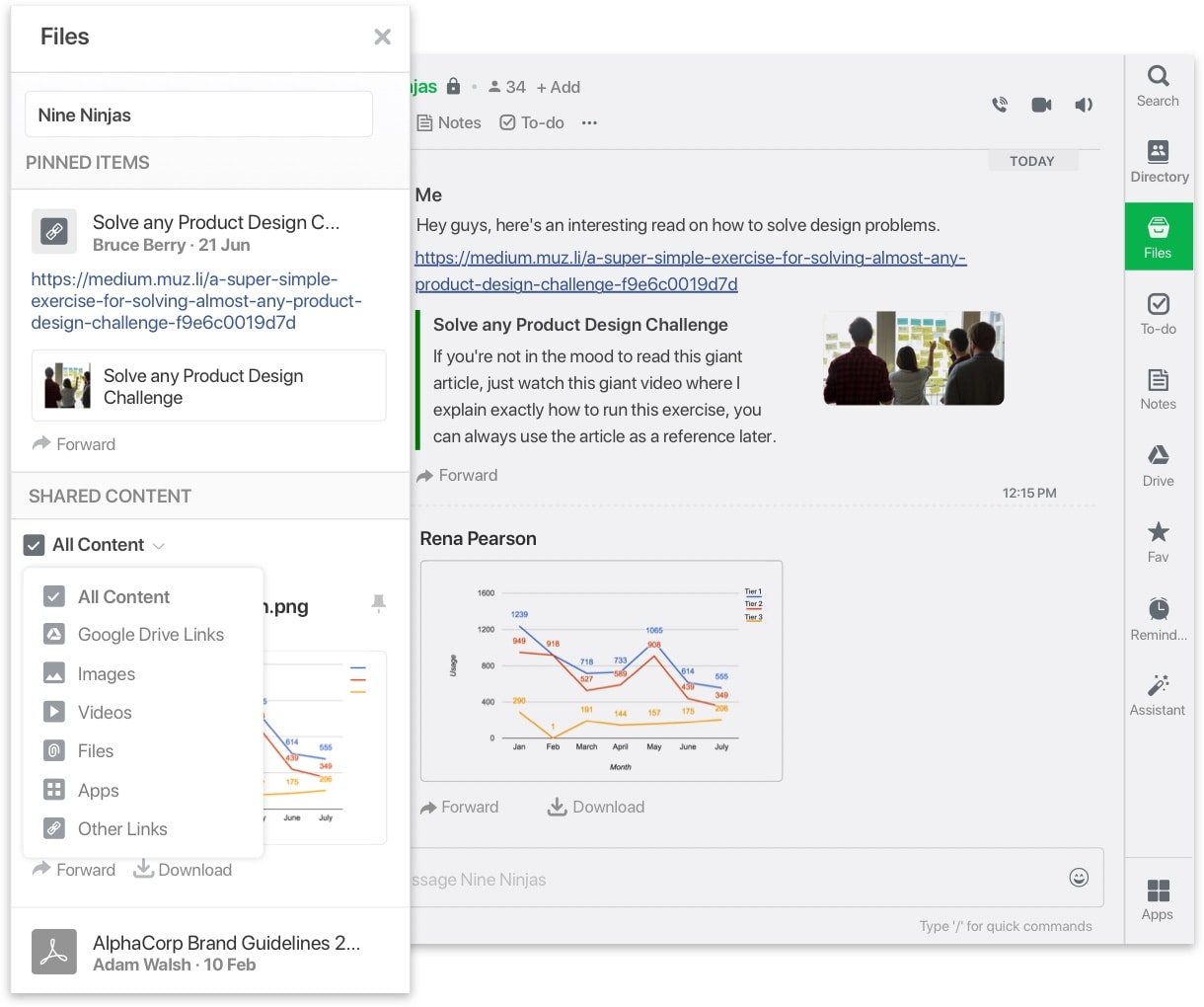 Collaboration
Share all types of files and find them easily
Need to share multiple images with your teammates? Simply drag and drop files of all types and see previews of shared files as well. Need to find a file someone shared? You can view all shared files and content in one place in Flock.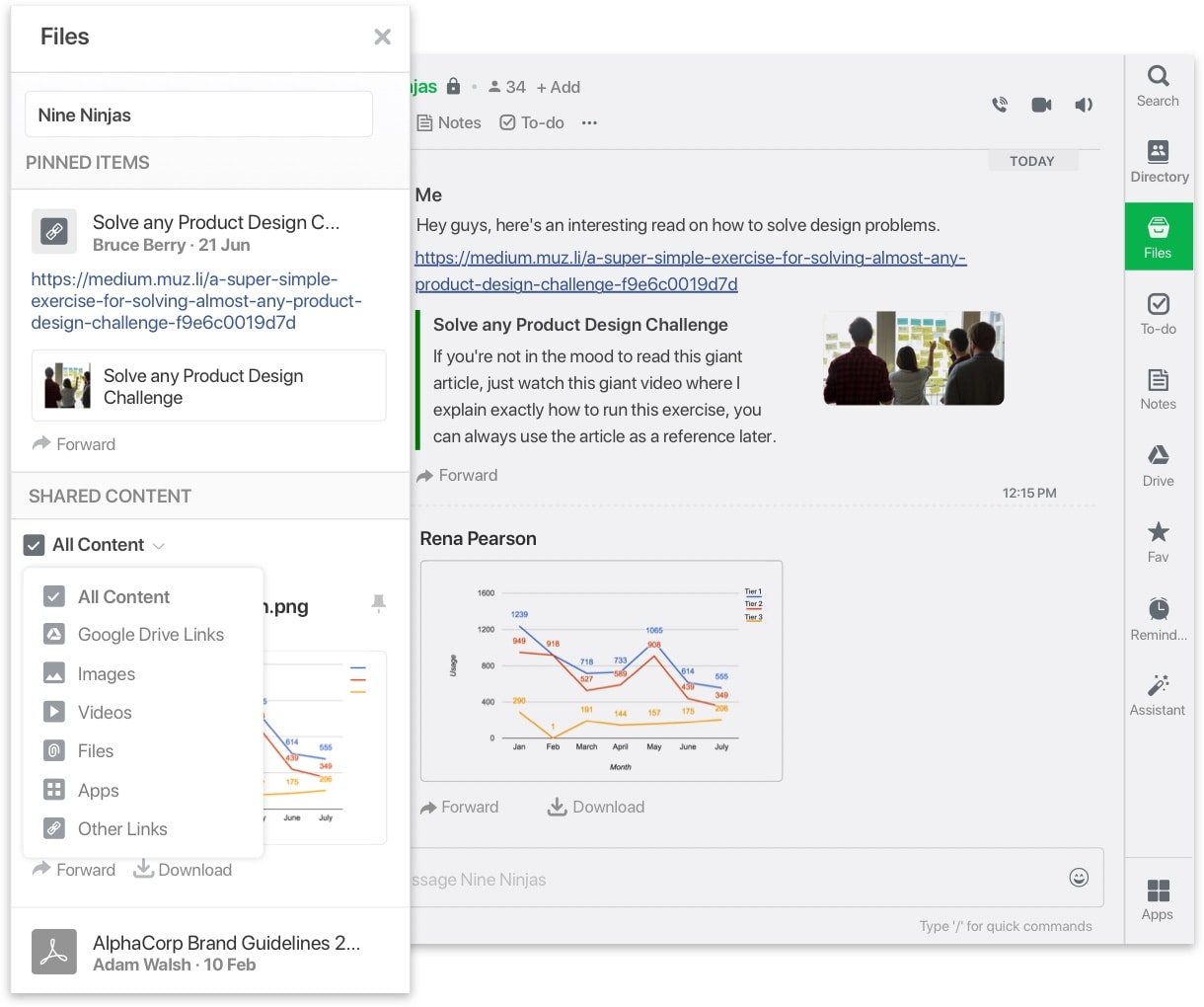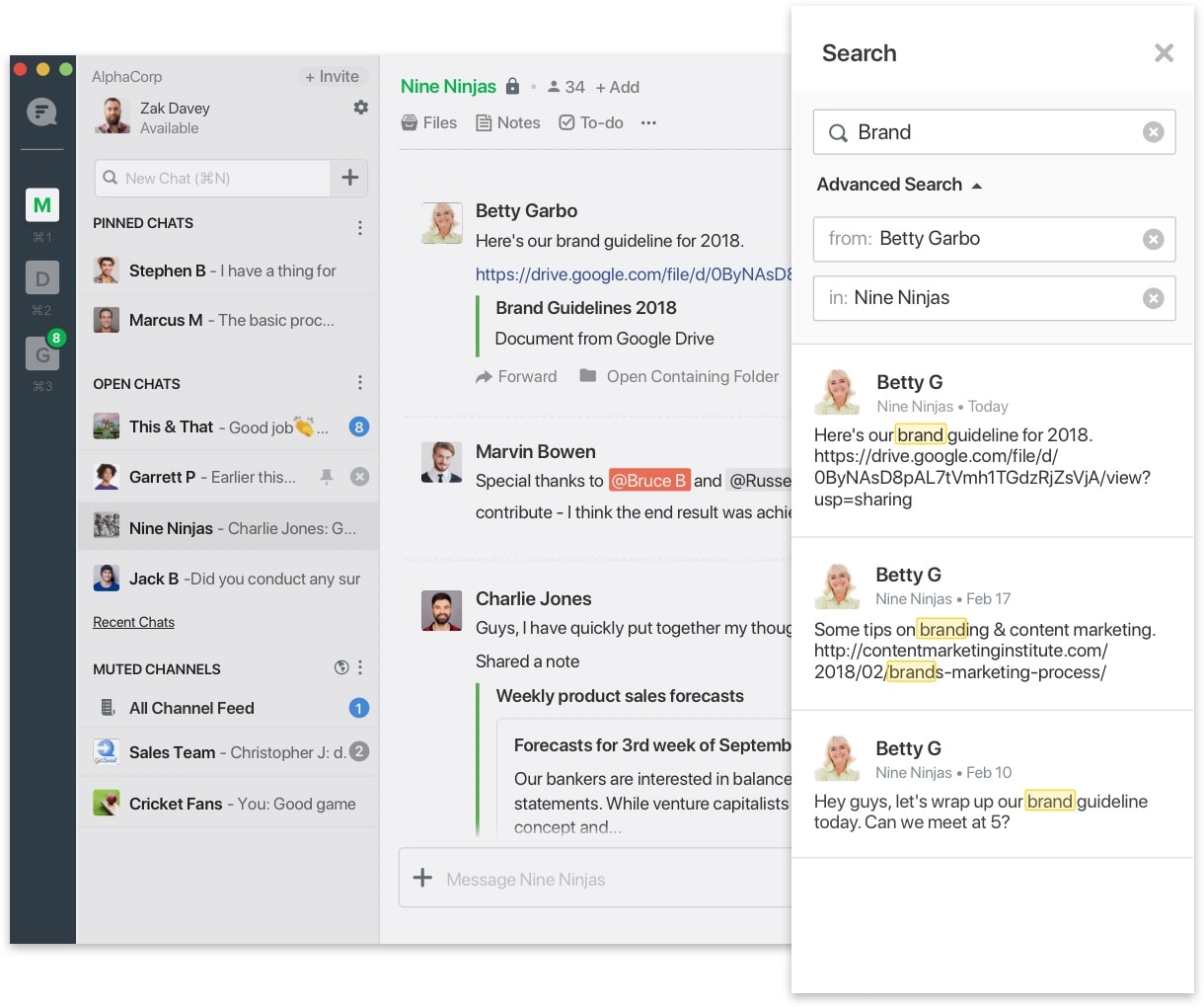 Collaboration
Find whatever you're looking for
Searching in Flock is blazing fast and easy. With Flock's advanced search capabilities, you can find what you're looking for - from messages to files and links - no matter who shared it or when.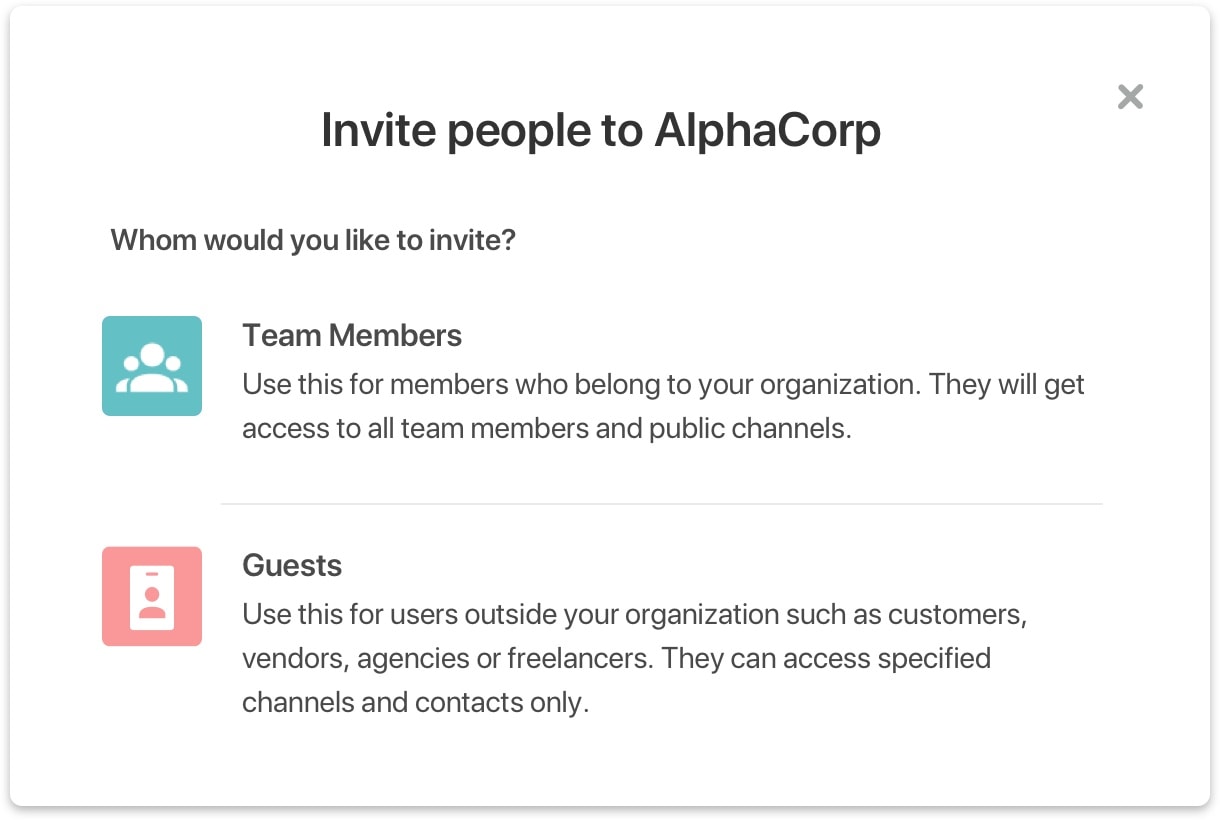 Collaboration
Invite guests to work with you
Need to work with vendors for your events or your PR agency, but don't want to give them access to sensitive company information? Simply add them as guests on Flock and specify the chats and channels they can access. Collaborate with everyone in one place.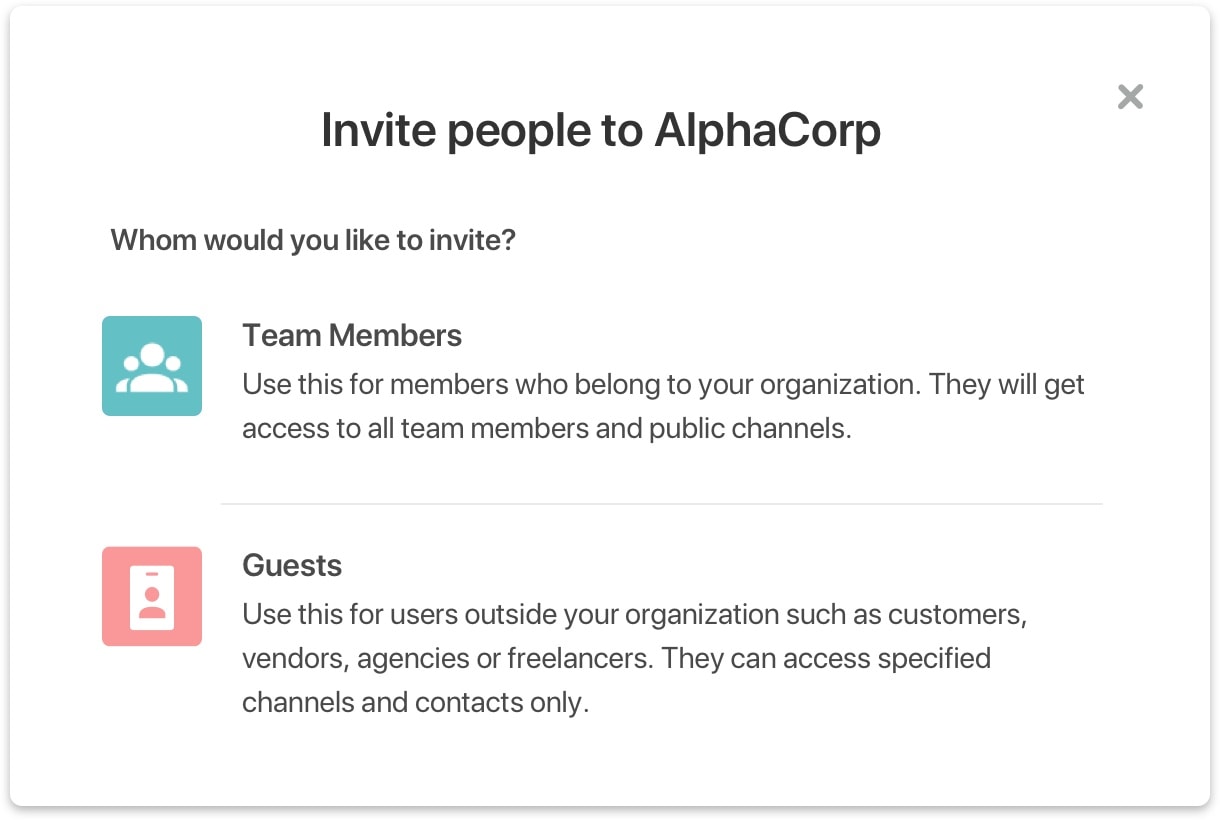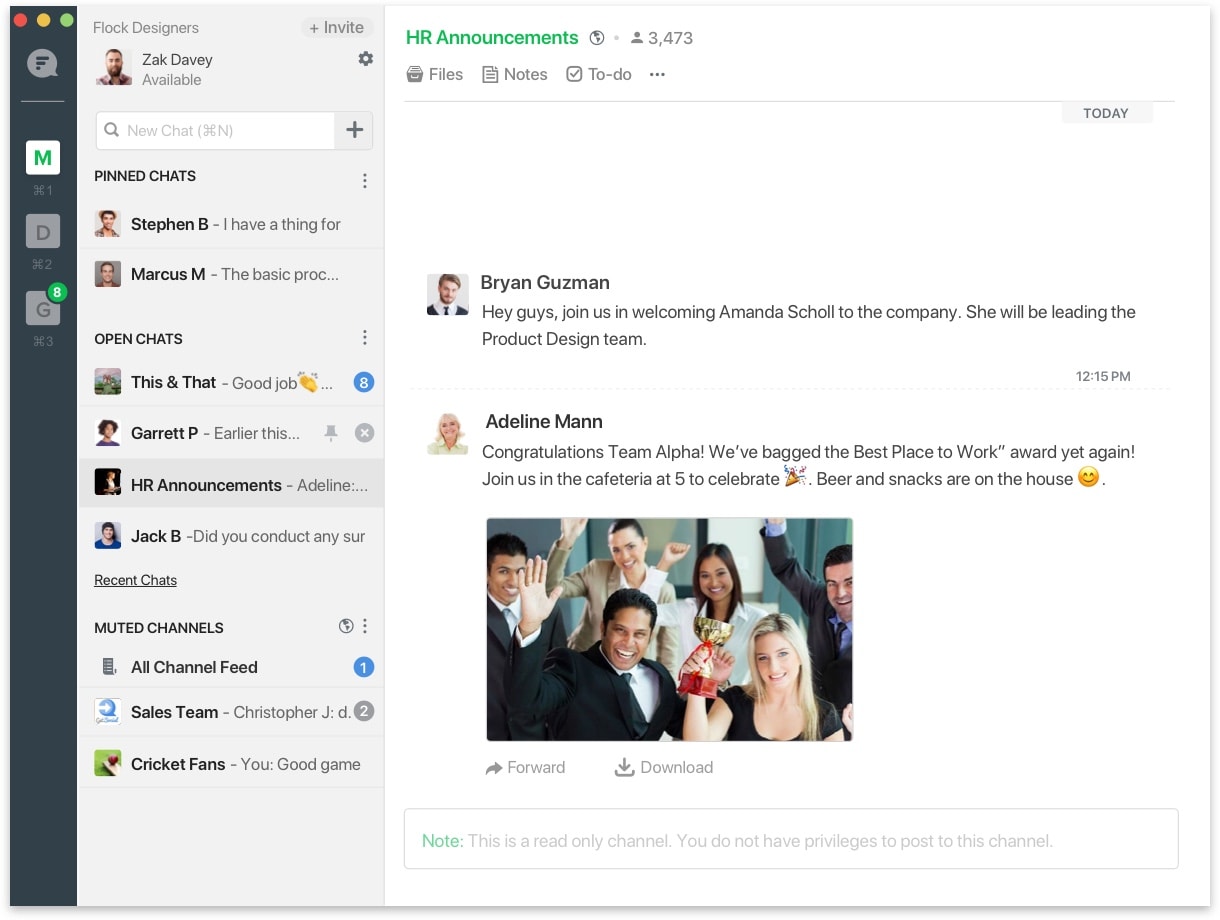 Collaboration
Share important news and updates with the entire team
Over the moon with that big client win? With Flock, you can share the cheer with everyone via one-way Announcement channels, where only team admins can broadcast information. No more guessing whether everyone got the message!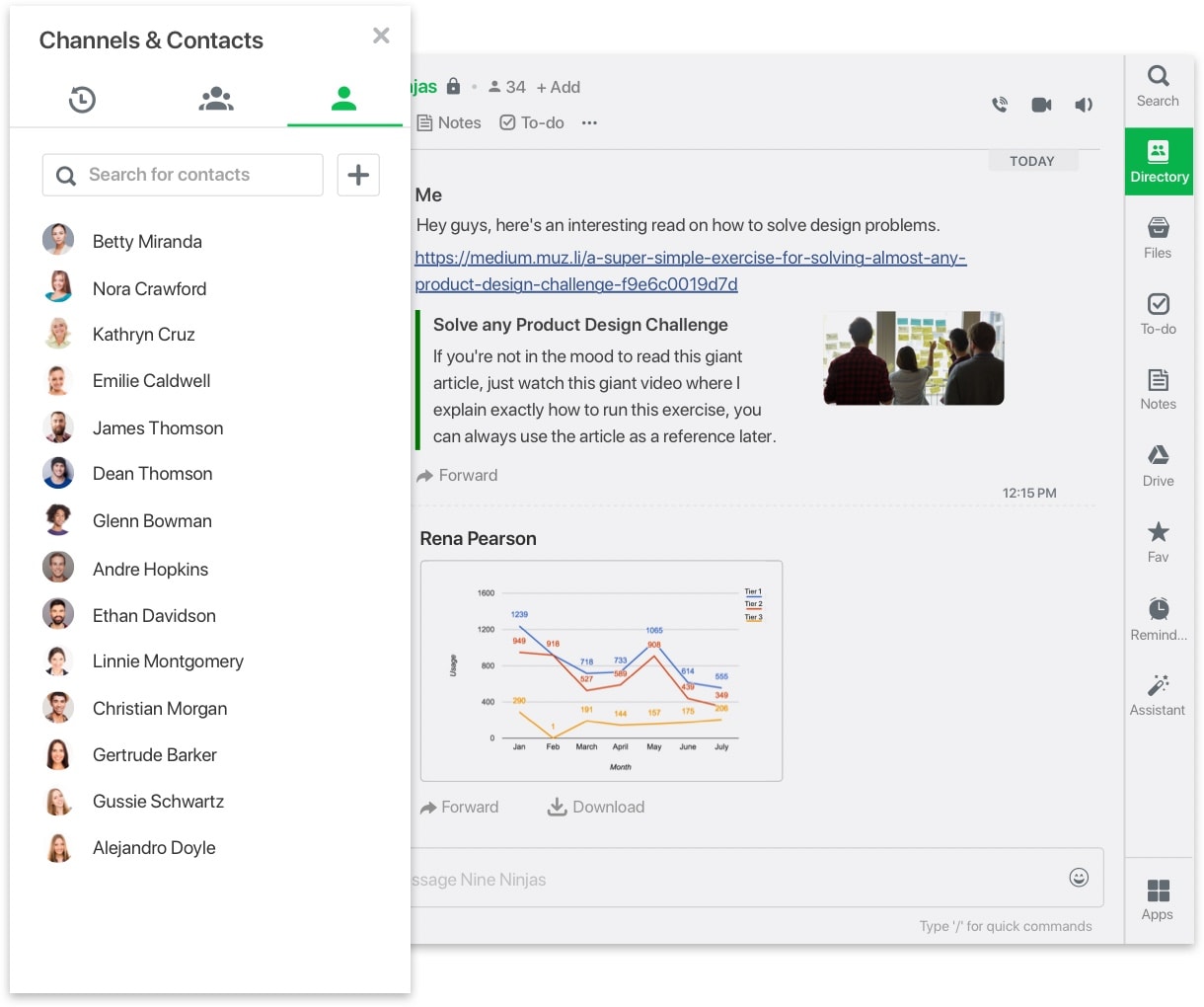 Collaboration
Access your entire company directory
Still looking over your desk to find your teammates? With Flock, you have the entire company team directory at your fingertips. Even when you're offline. So, you can easily reach out to any employee in your organization.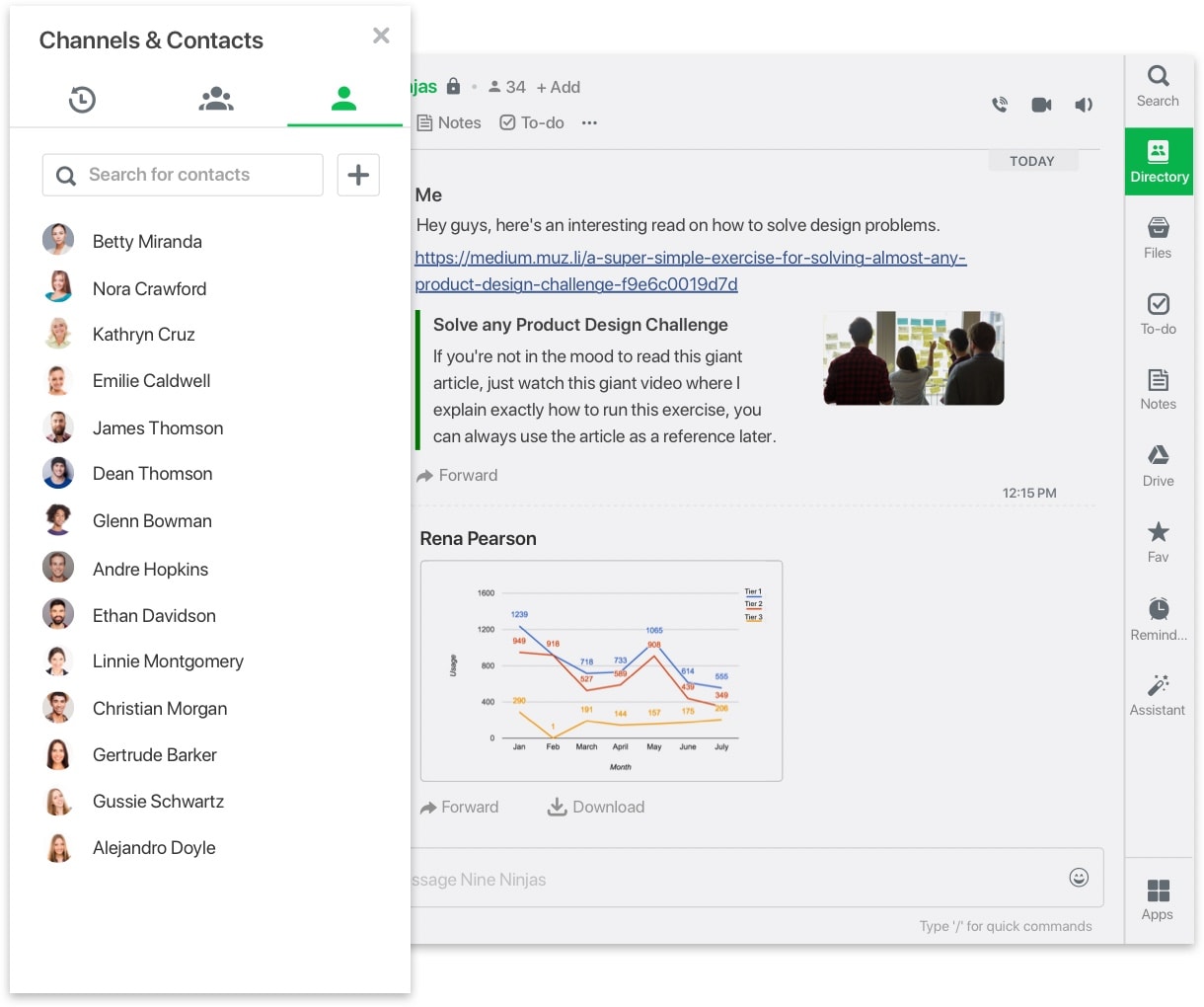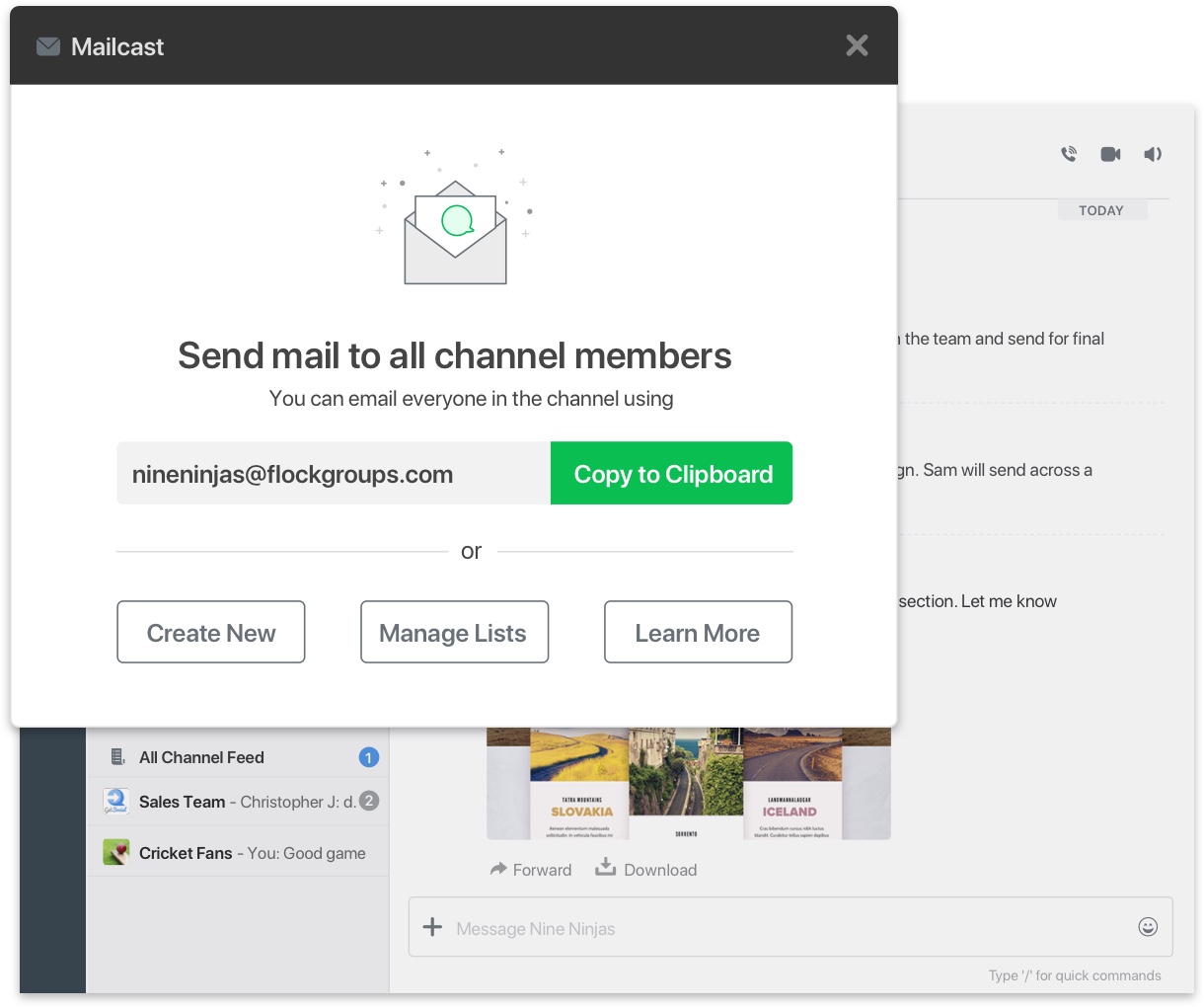 Collaboration
Manage mailing lists the smart way
Sending email updates to multiple parties can be a pain. With Flock's auto-generated mailing lists, you can email an entire channel at one go. You can even manage your mailing lists the way you want. Add teammates from other channels or even people who are not on Flock!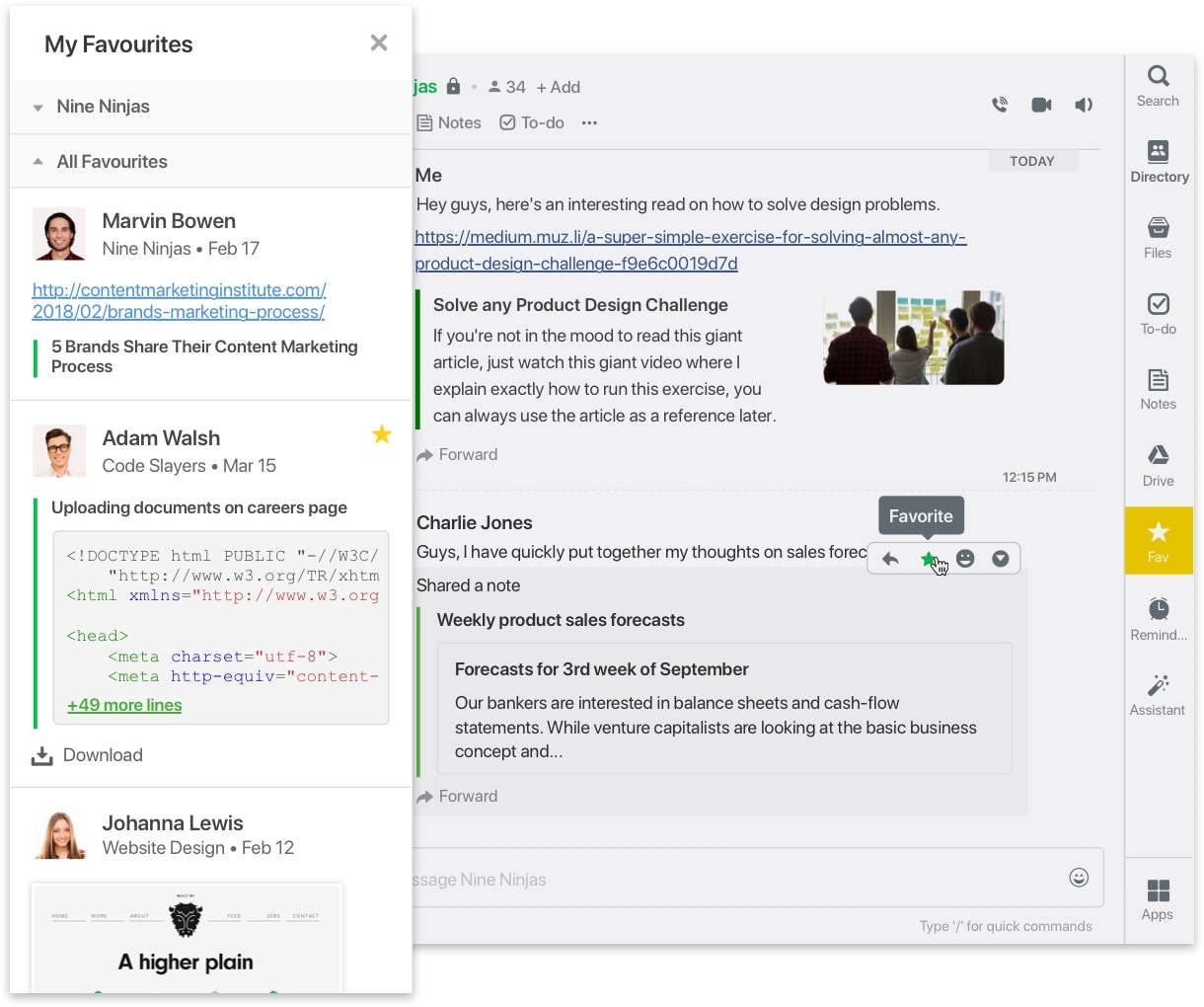 Collaboration
Bookmark important messages for later
Quit scrambling and searching for that one important link or phone number in a bunch of chat messages. You can bookmark anything important - from a message to a link - and get back to it anytime later. Everything you bookmark can be viewed in one single place - My Favorites.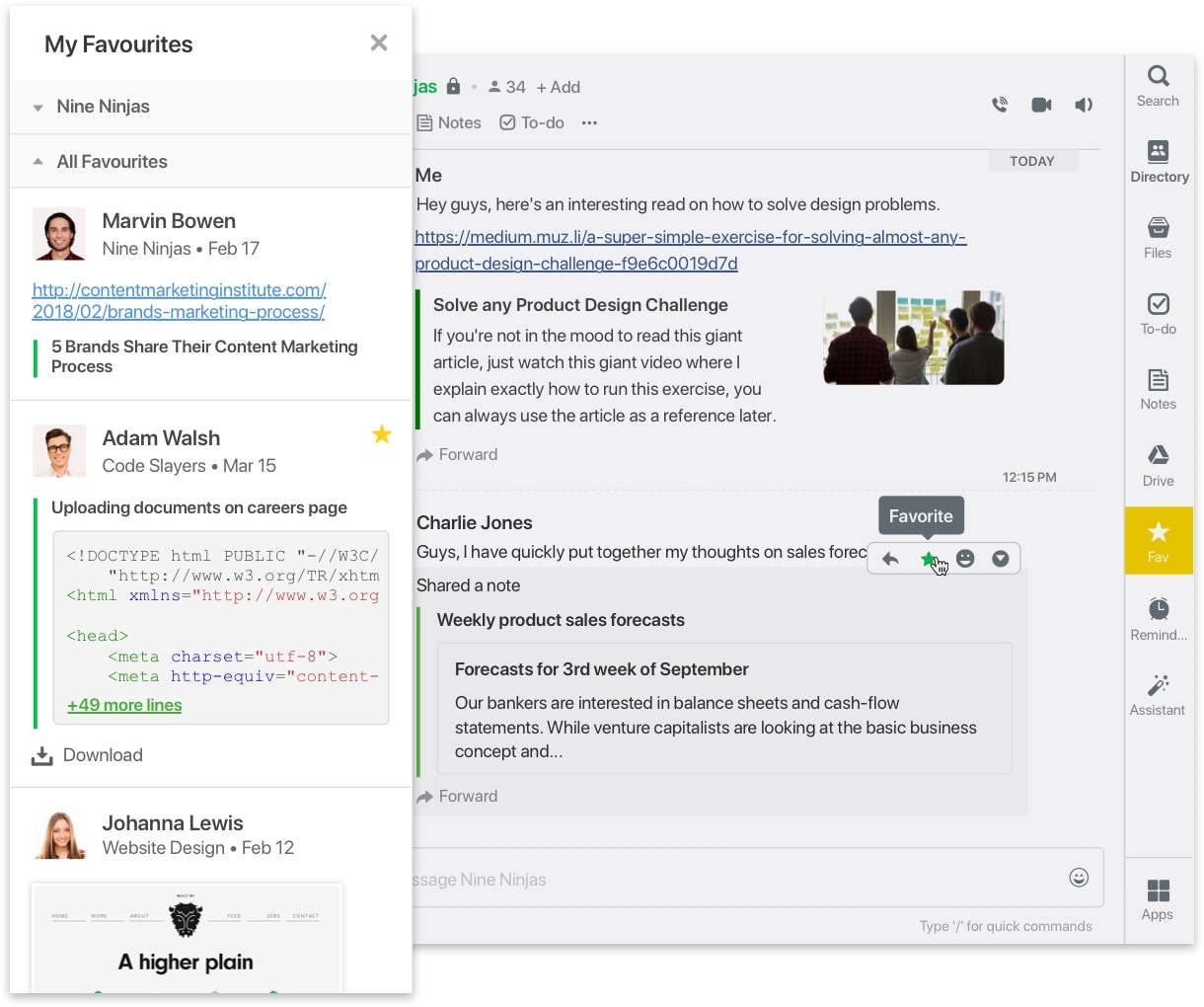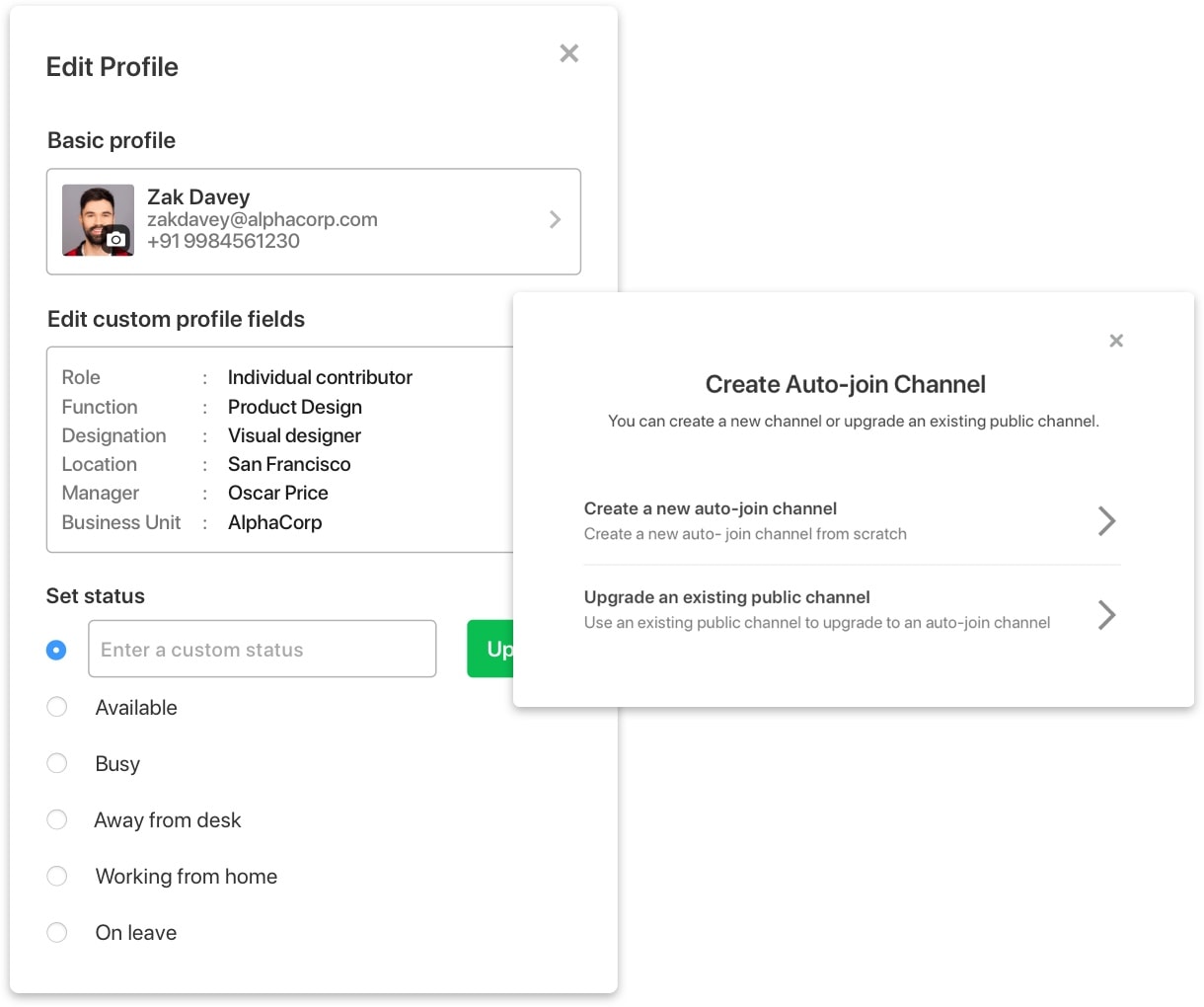 Collaboration
Organize your team the smart way
Need a channel for all software devs in the New York Office? Or a channel for everyone reporting to Mark? With Flock's Smart Channels, you can predefine membership rules for channels. Once set, any new employee who matches the criteria will be automatically added to the channel. Jumpstart teamwork in no time.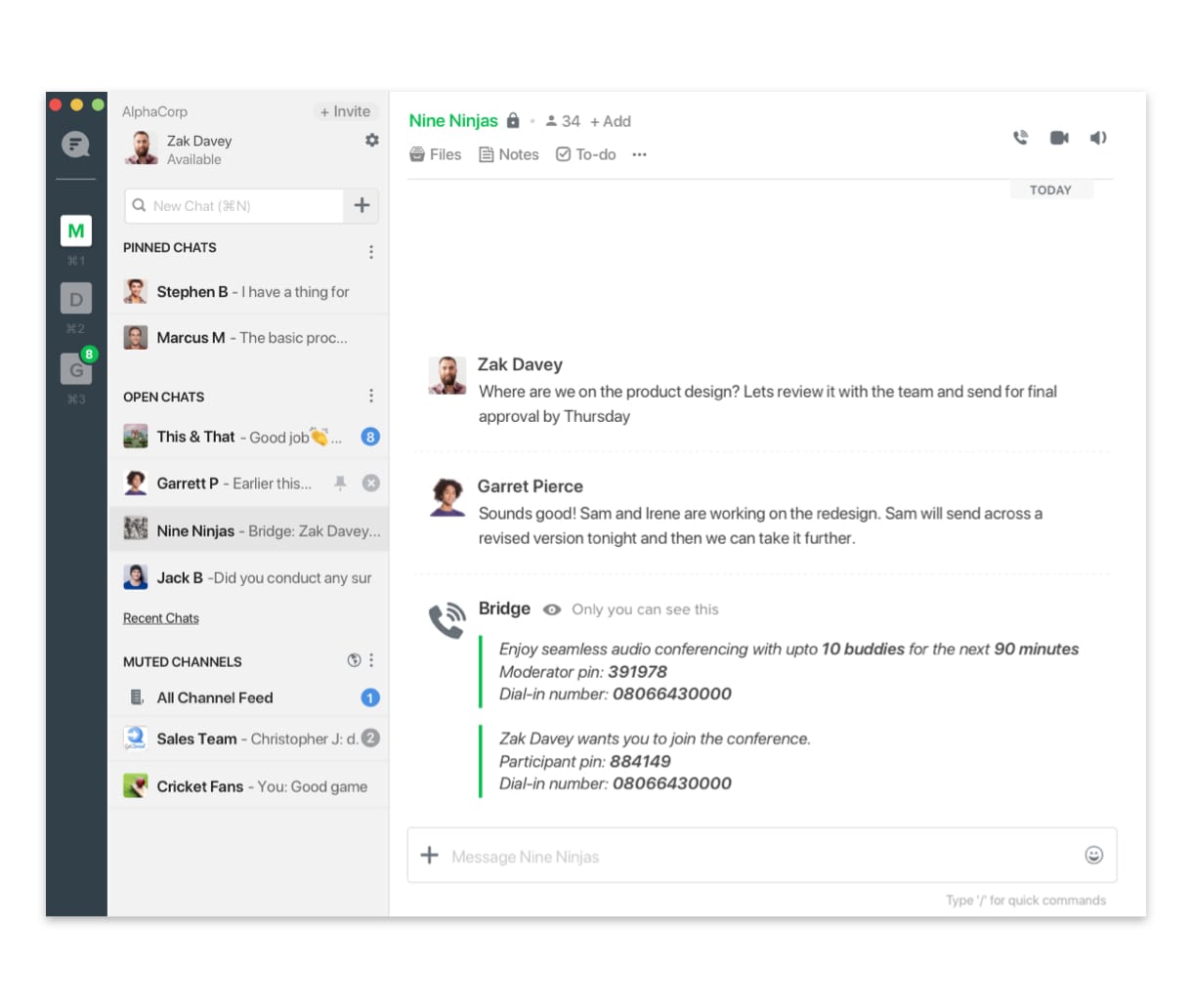 Collaboration
Pick up your phone for instant audio conferencing
Running low on internet bandwidth? Or always on the go? With Flock, you can enjoy uninterrupted audio calling and conferencing with your team. Simply pick up the phone, invite your team to join a conference room via a pin on Flock, and get talking.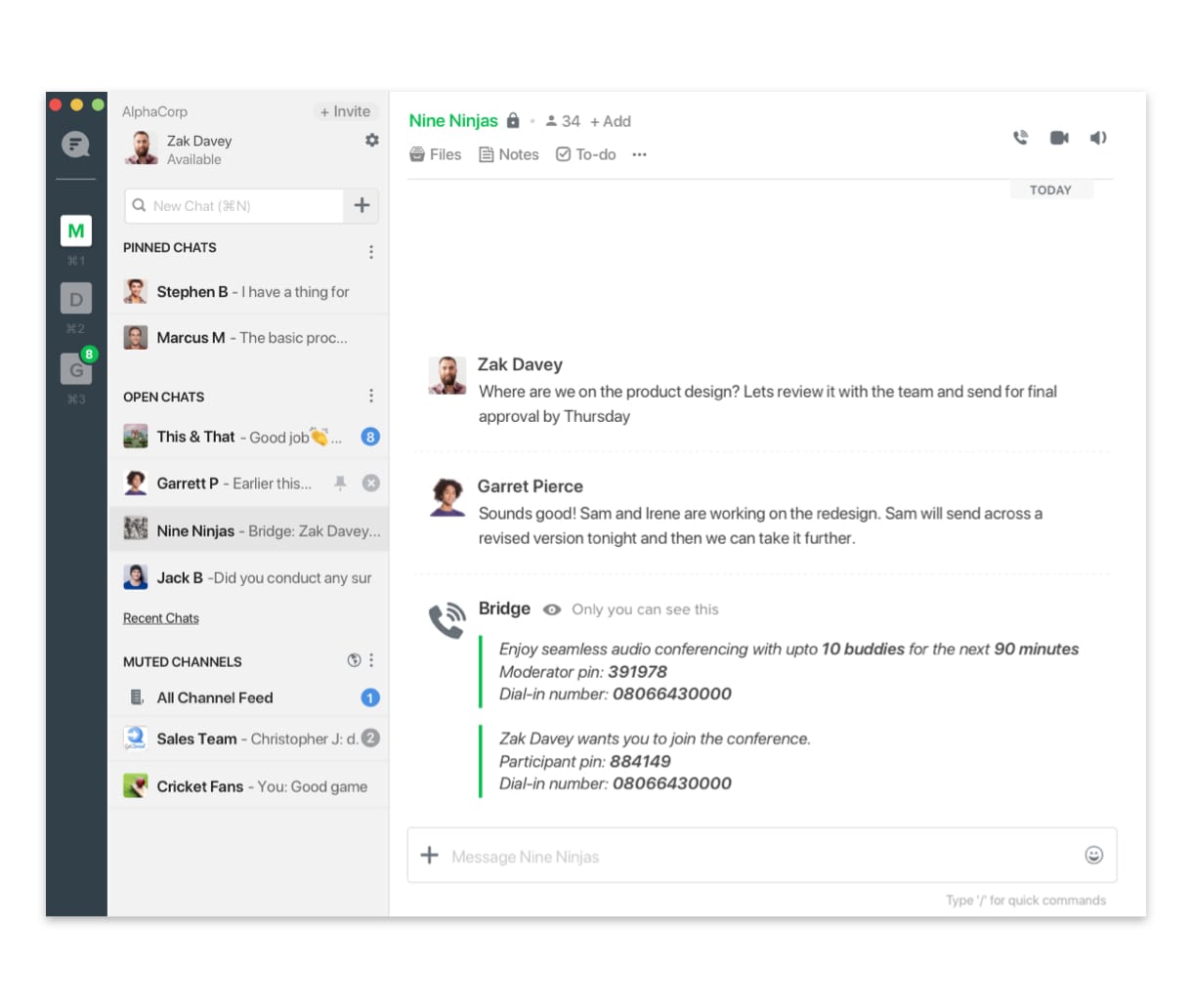 Productivity
Boost your team's productivity and efficiency with our inbuilt tools. Collaborate with team members, share opinions, and manage your tasks more efficiently.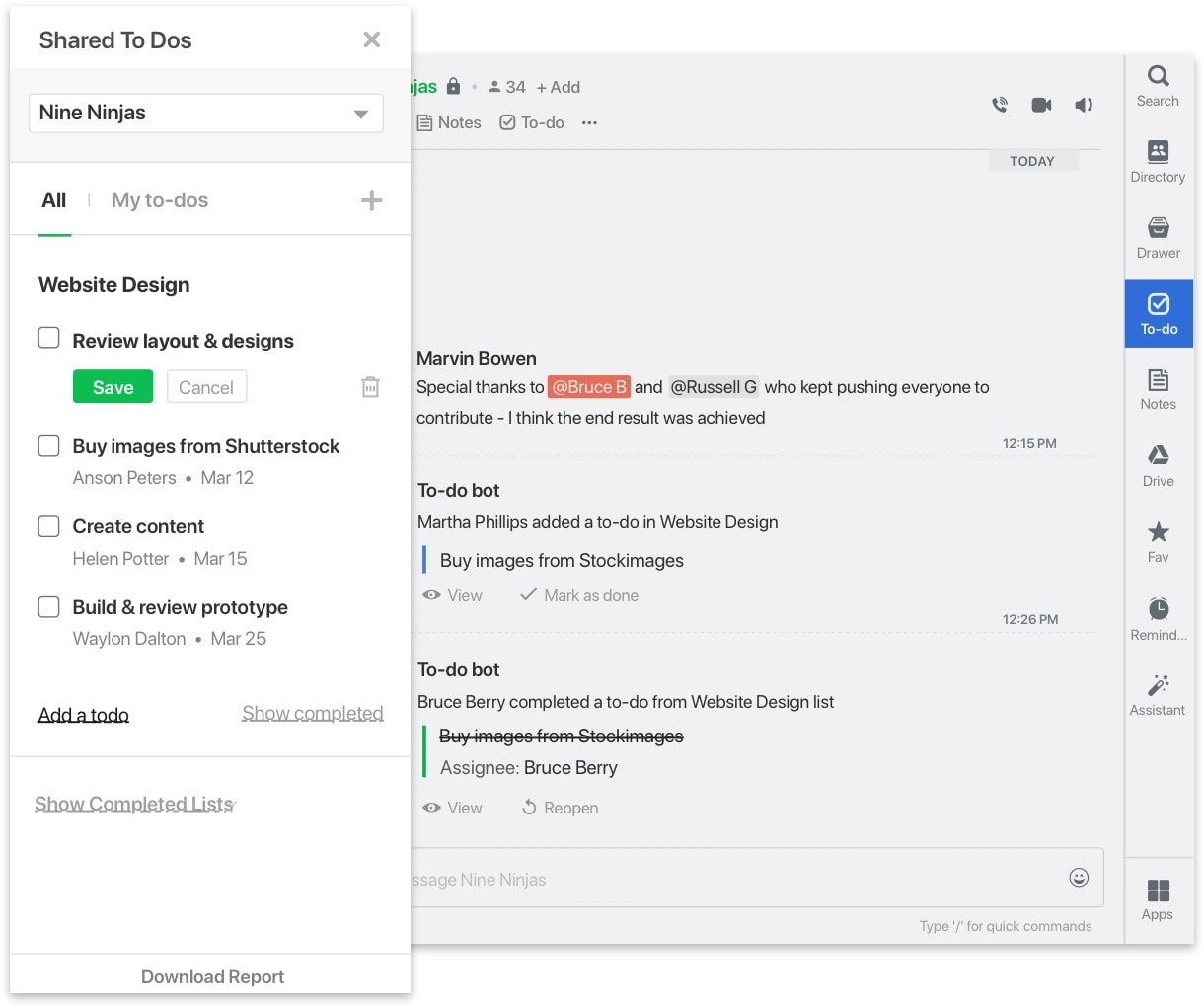 Productivity
Convert discussions to tasks instantly
Launching a new product? You can create a channel for the project and quickly turn those discussions into tasks by creating to-dos for you and your team. Add due dates and that's it. Let the Shared To-dos bot remind you every morning of tasks due on that day. No need to chase deadlines at the last moment.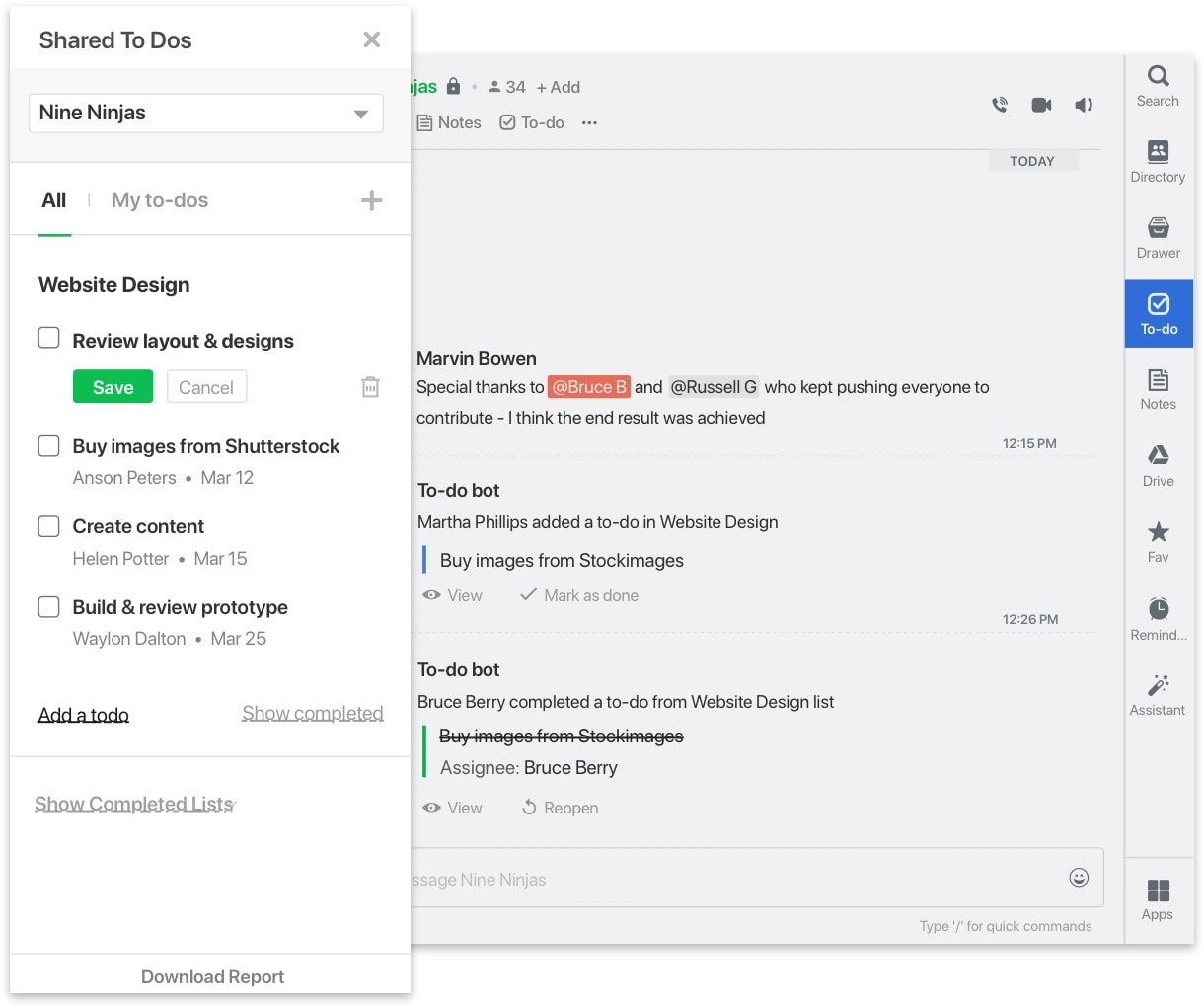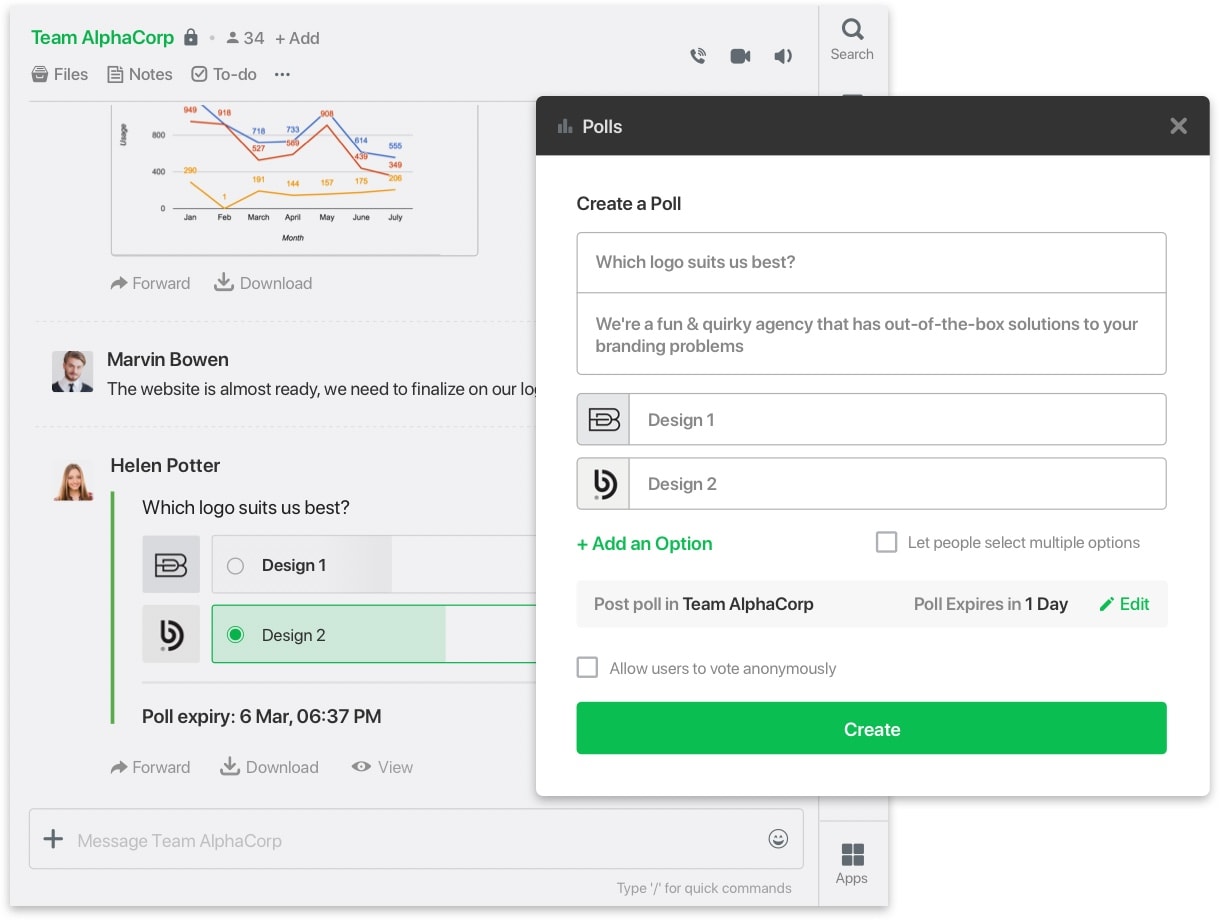 Productivity
Make sure everyone gets heard
Wondering where to go for your annual offsite? Post a question on the channel, and allow users to vote anonymously. Take it up a notch and create fun, image-based polls for your team. Polls are automatically updated across channels and you can download a vote tally to get the final word.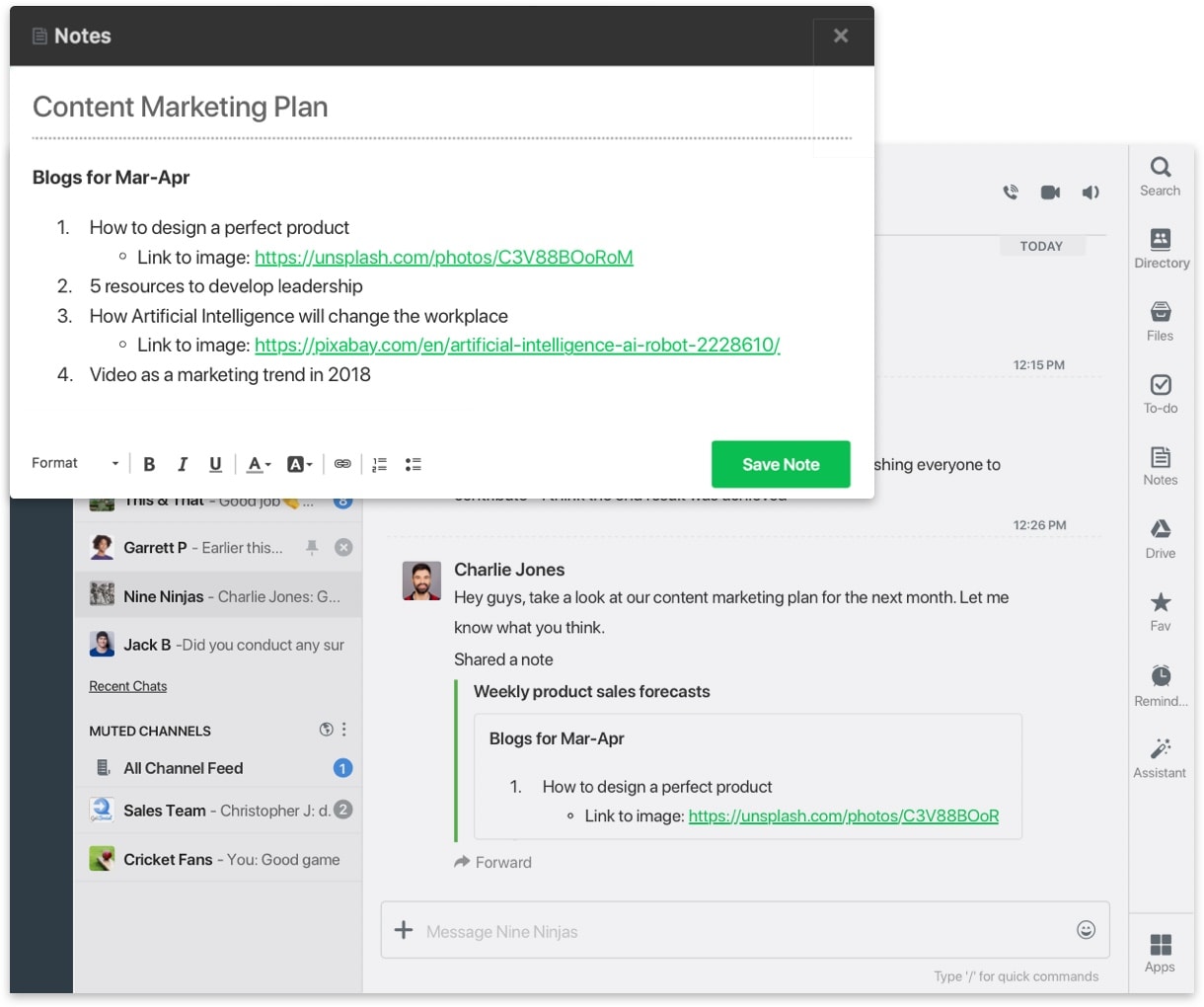 Productivity
Create notes and collaborate with your team on the go
Got a fantastic idea in the middle of a meeting? With the Notes feature, you can quickly jot down your ideas and share with your teammates. Anyone you've shared the note with can make edits, and all the changes will be updated across the chats you've shared the note in.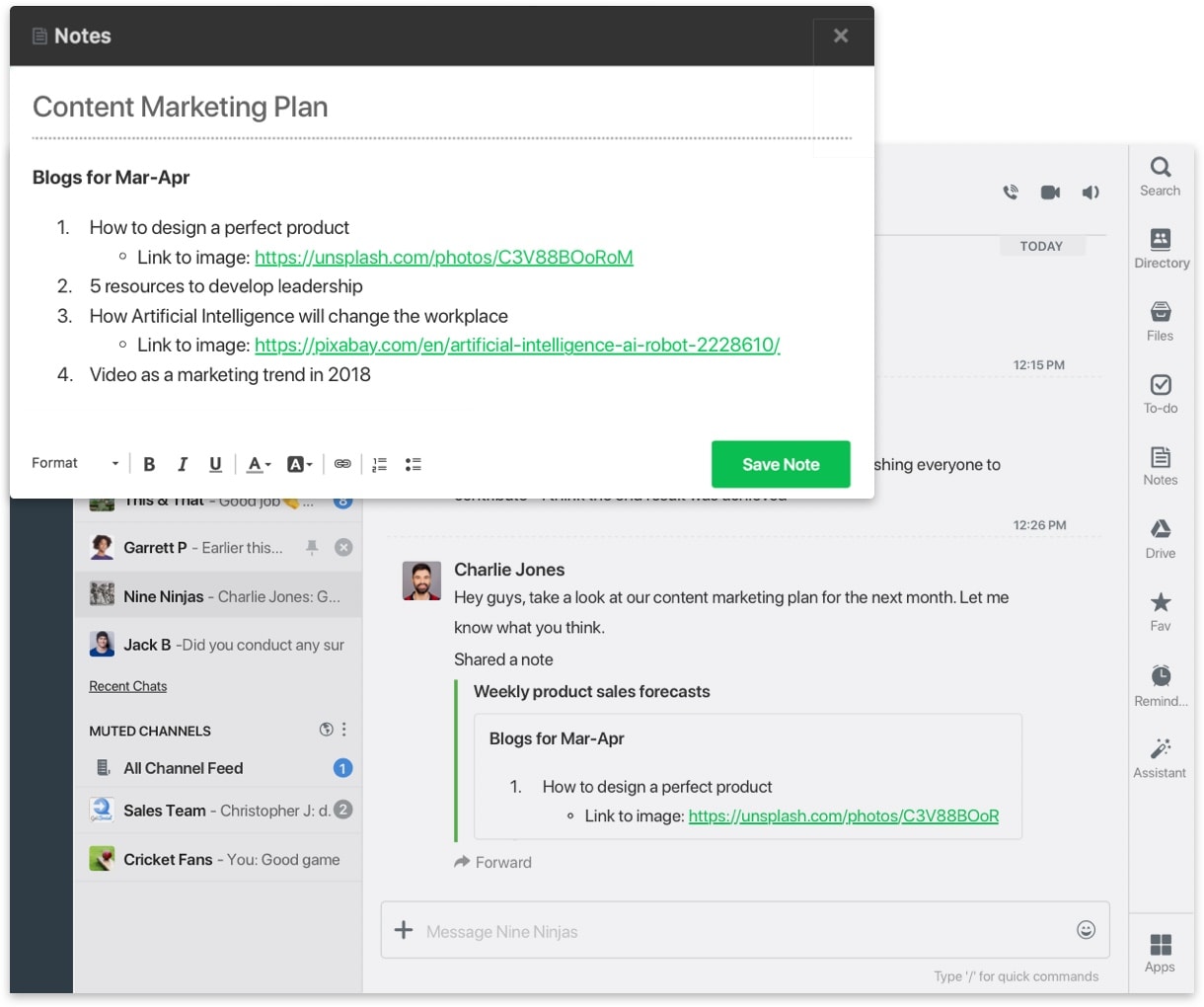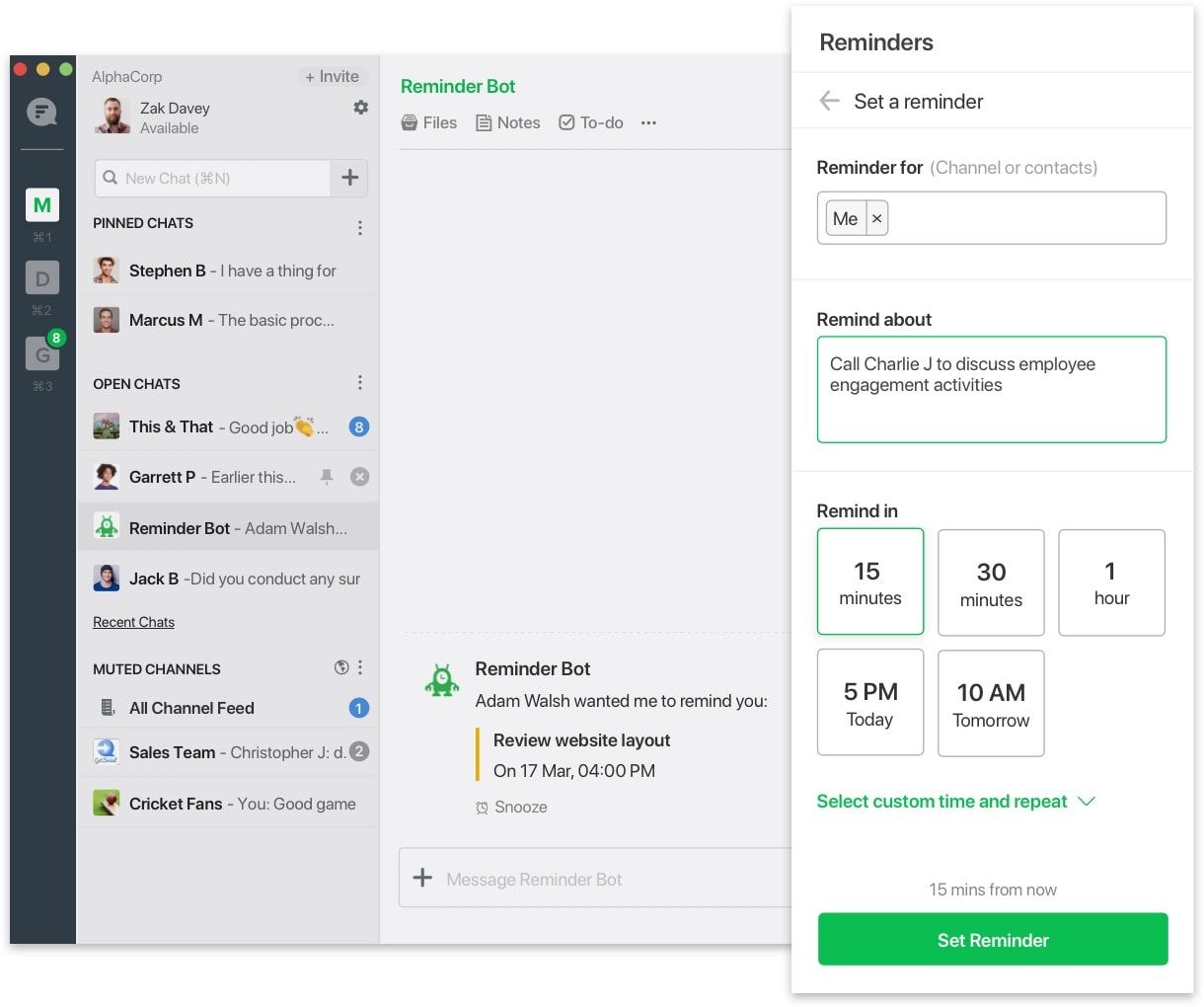 Productivity
Missed a deadline? Never again
With Flock, you'll never miss another deadline or forget a task. Just set a reminder against any message in a chat, or via the good ol' slash commands. Oh, and reminders can be set for all channel members in one go as well.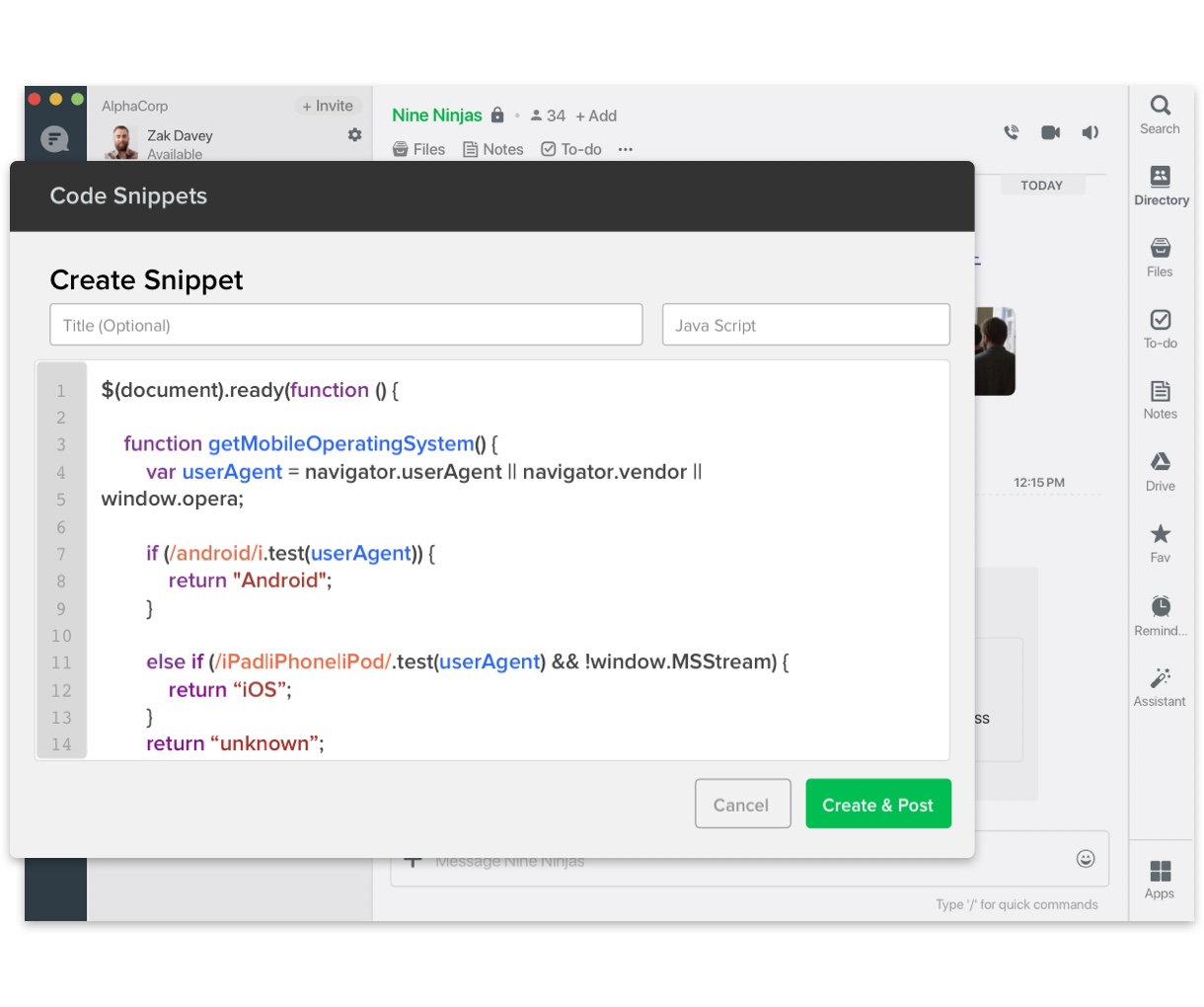 Productivity
Create and share code snippets on the go
Let your code do the talking while you share it with other members of your team. Flock automatically detects code language and syntax, making it easier for everyone to read and review your snippets.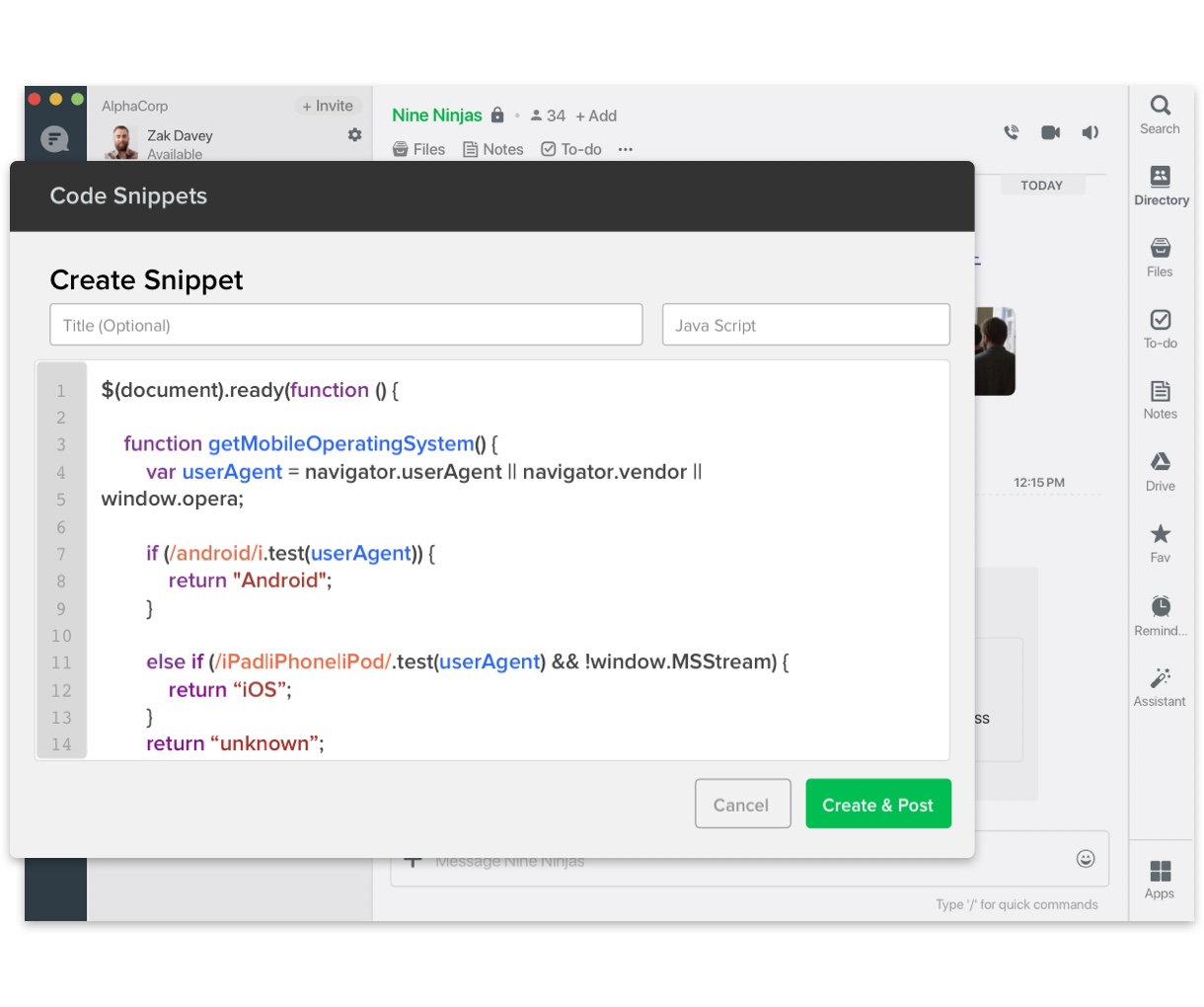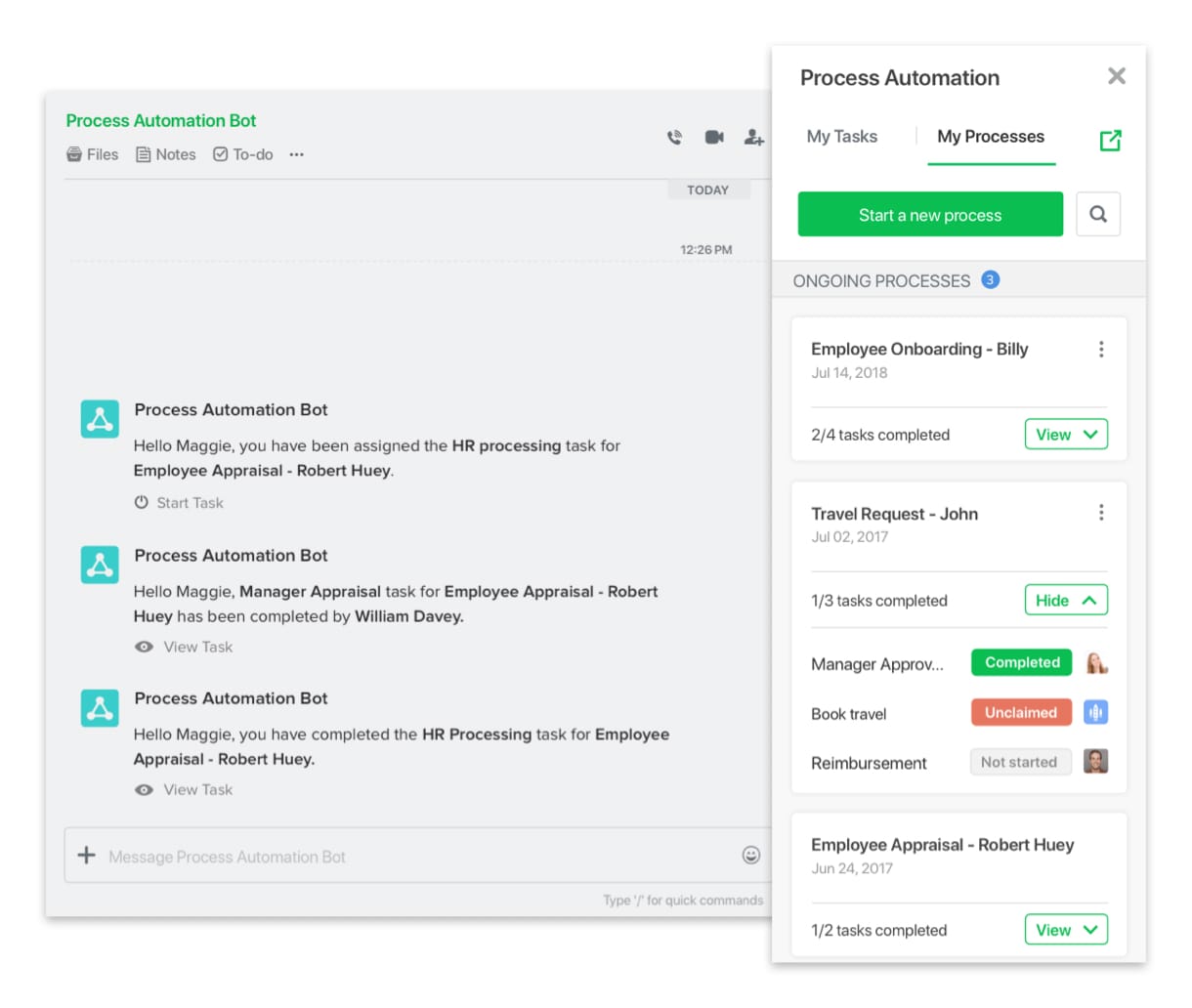 Productivity
Streamline and automate your workflows
Struggling to manage multiple processes while onboarding new employees? With Process Automation, you can simplify and automate even the most complex workflows, like reimbursement claims and IT requests. Receive real-time updates on tasks that you're a part of, right within Flock.
Integrations
Integrate your most frequently used third-party apps with Flock. Choose from over 60+ apps listed on our Appstore or build your own. No more switching tabs!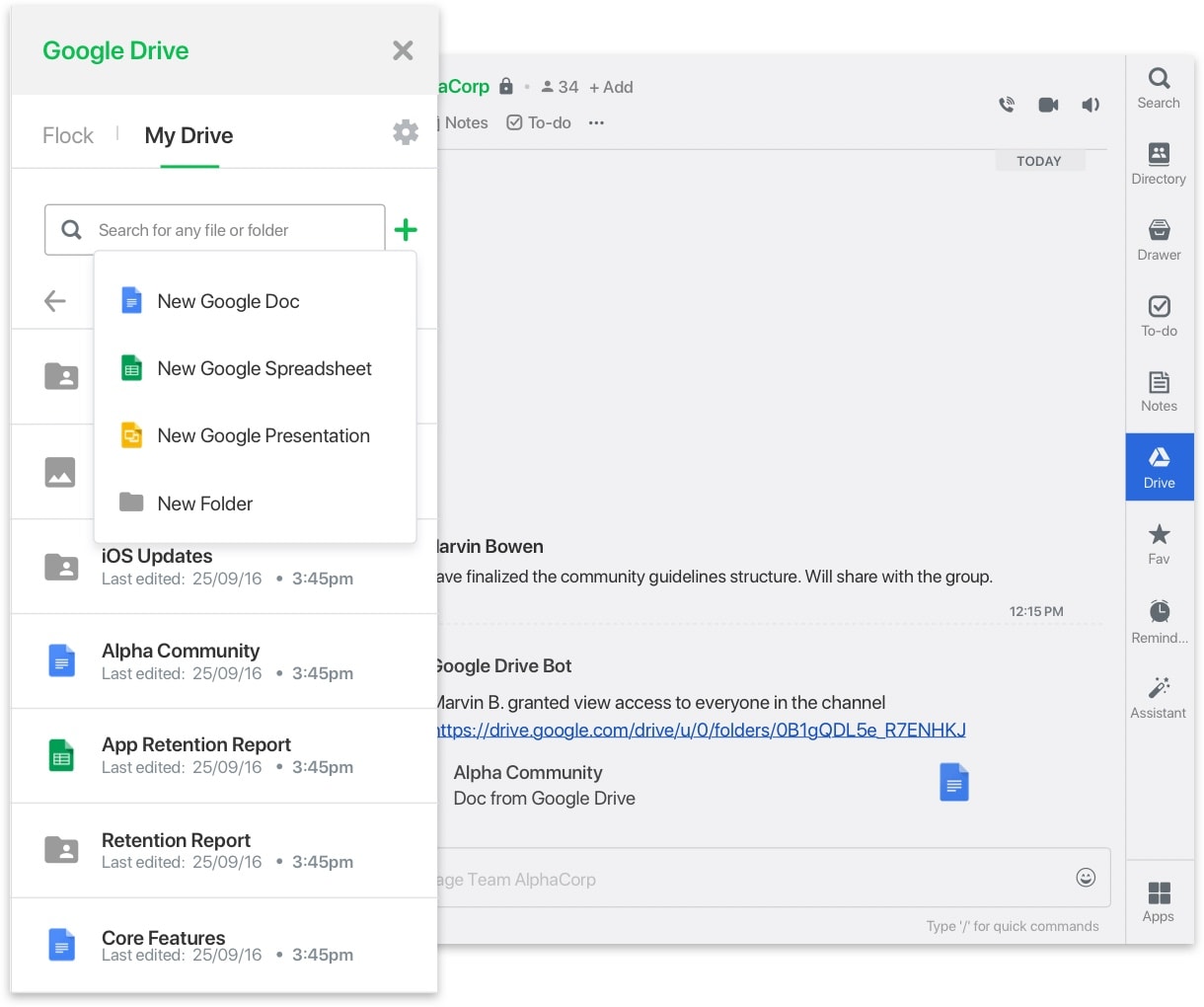 Integrations
Access your entire Google Drive from within Flock
Change the way you collaborate with Google Drive's deep integration with Flock. Access your entire Google Drive from within Flock. Find and share any Google Drive file or folder. Or create new ones from within the app, and share them with your teammates. Make Flock the hub of all your teamwork.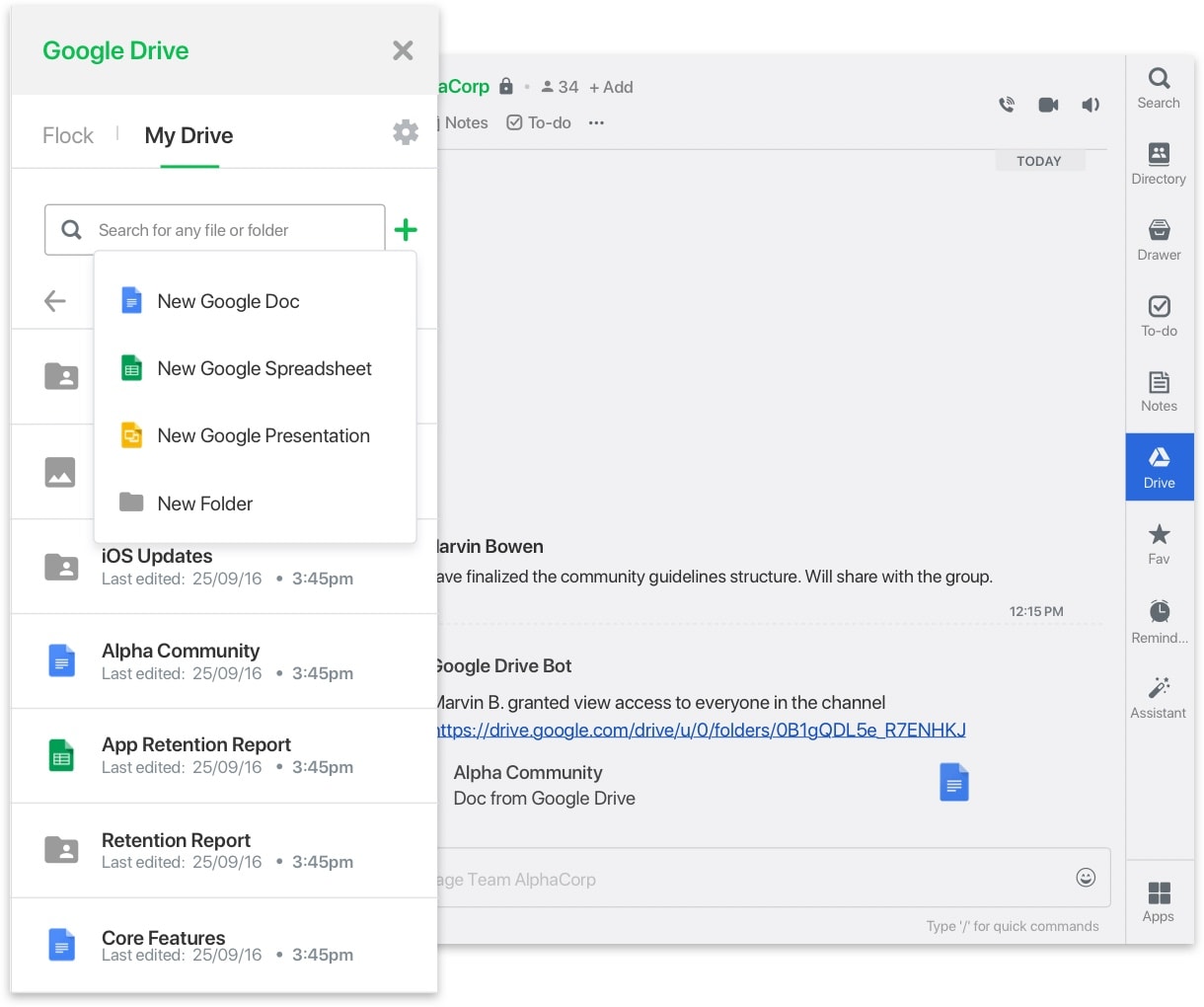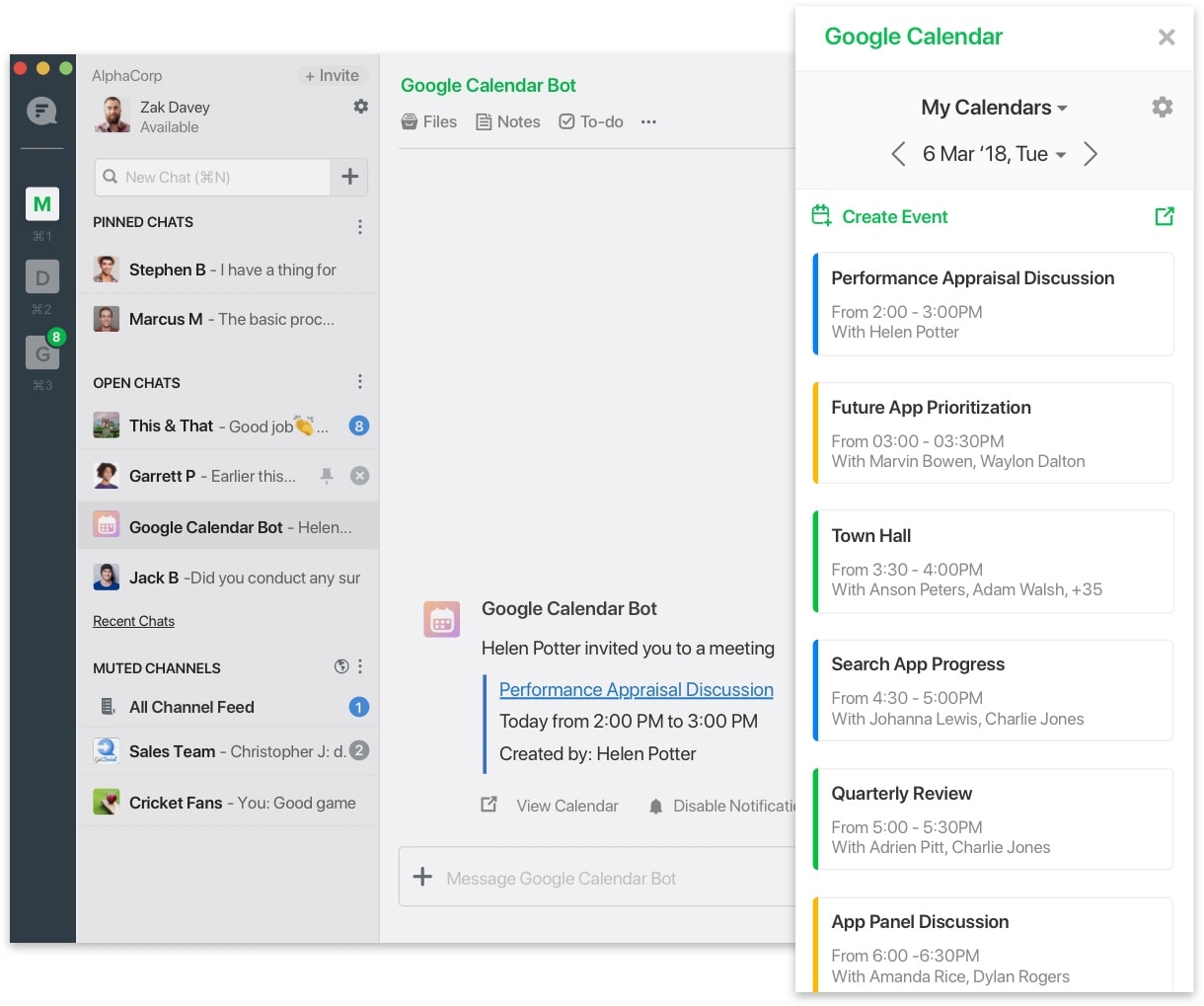 Integrations
Reach every meeting on time with Google Calendar
With Flock's Google Calendar integration, playing the guessing game is a thing of the past. You will receive a reminder on Flock when it's time for your meeting. And even notifications about event invites and updates. Now, time is on your side!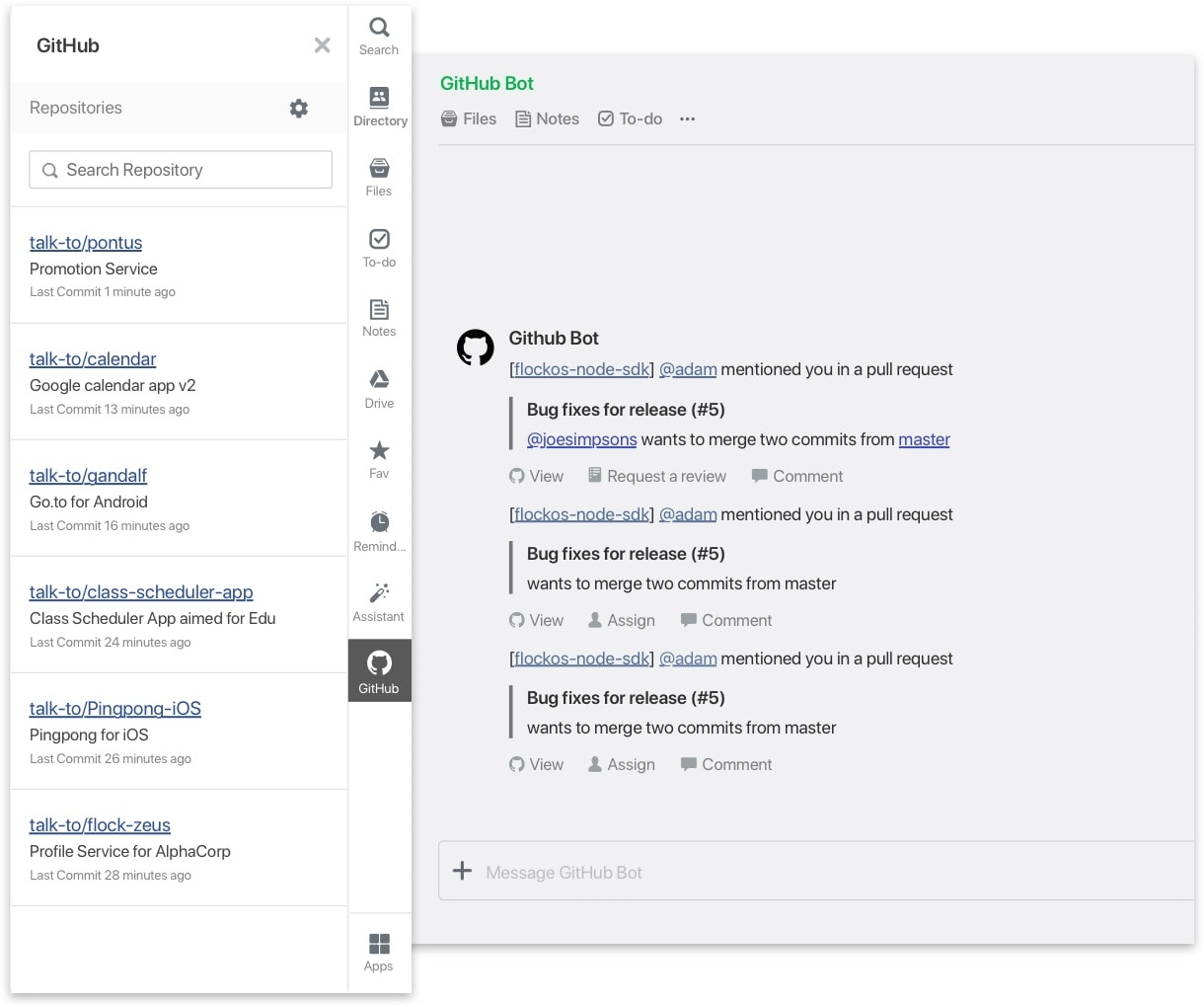 Integrations
Manage your GitHub repos without switching tabs
With Flock's deep integration with GitHub, you can access your entire GitHub universe from within the app! Receive personal and team notifications, navigate through all your repos, and even share rich GitHub content. Save time spent on switching between apps.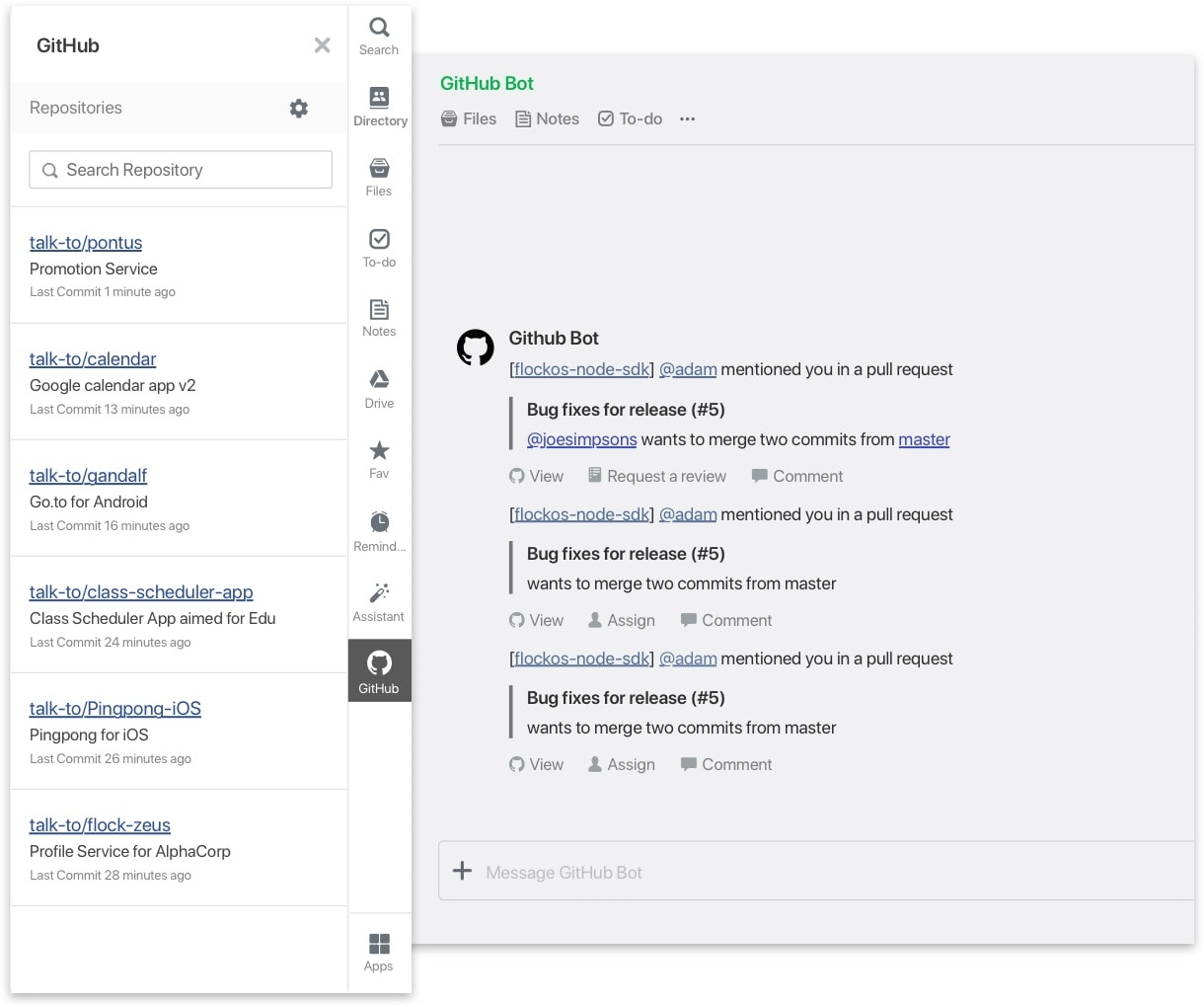 Build custom apps and integrations in Flock
Flock gives you the freedom to build your own apps and integrations via the Flock API. From slash commands and pop-ups, to the sidebar and widgets - apps in Flock have multiple user touch points, making them easier to discover and use. Bring together your teammates, their tools and workflows on one platform, and help them be more productive and efficient.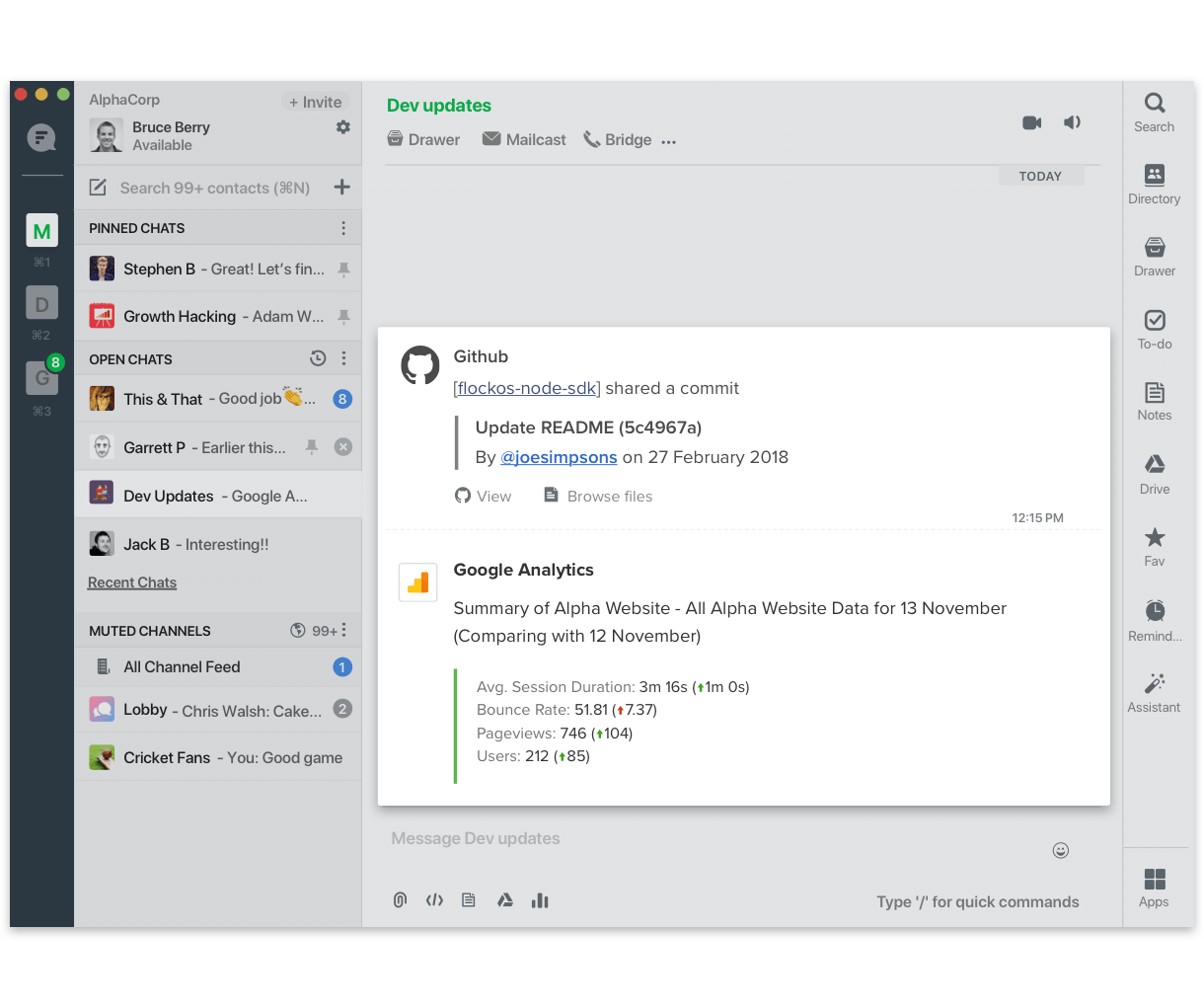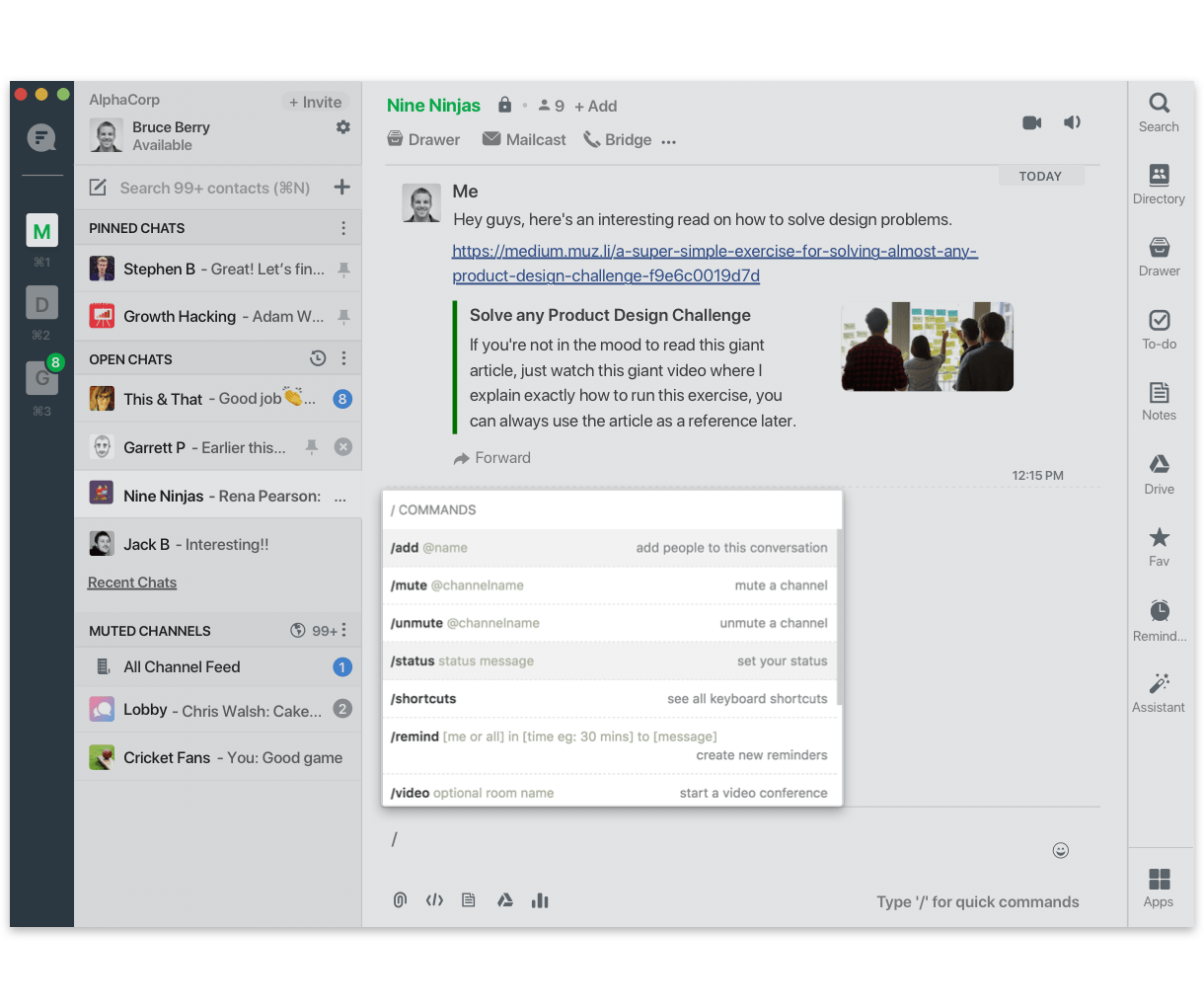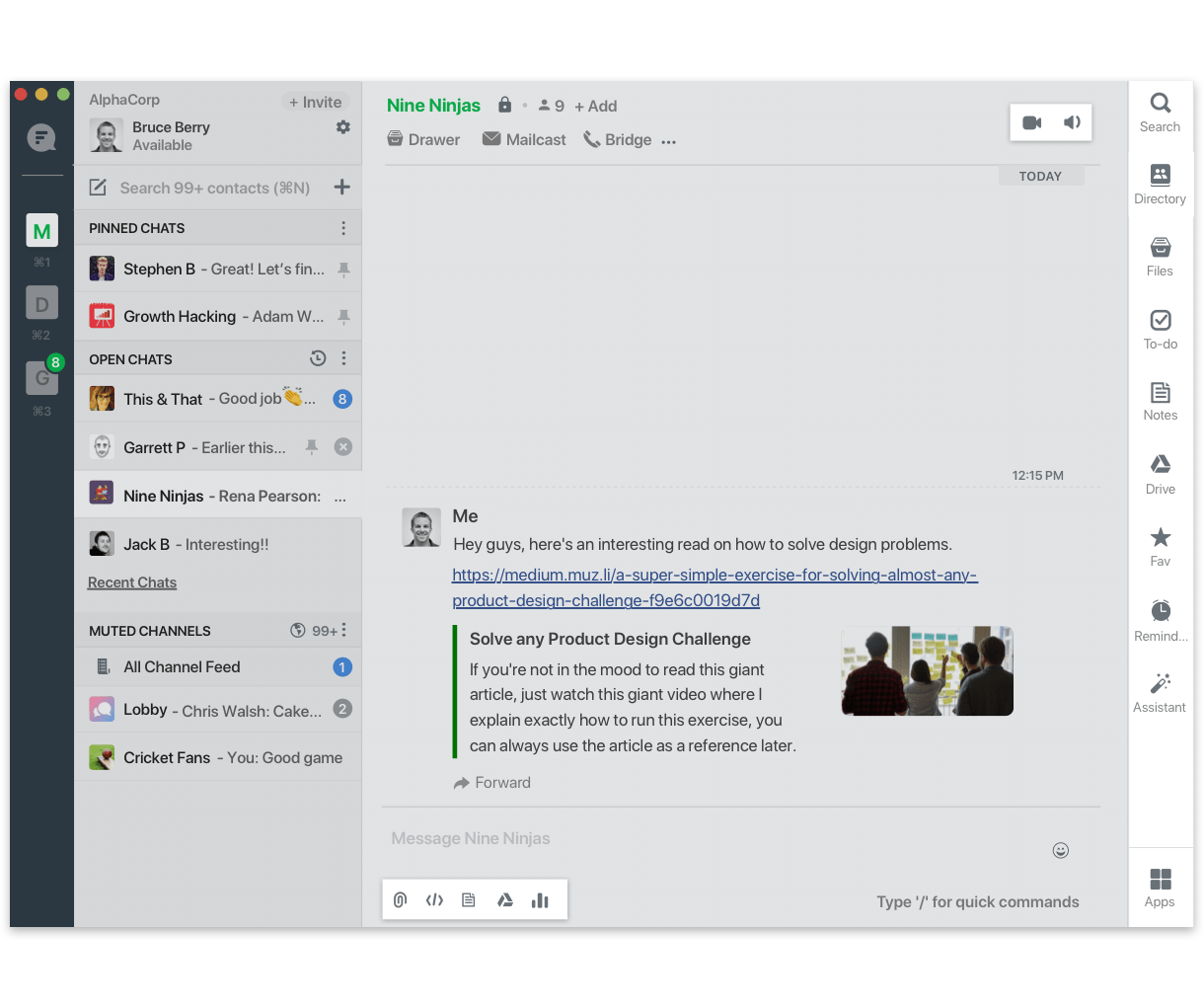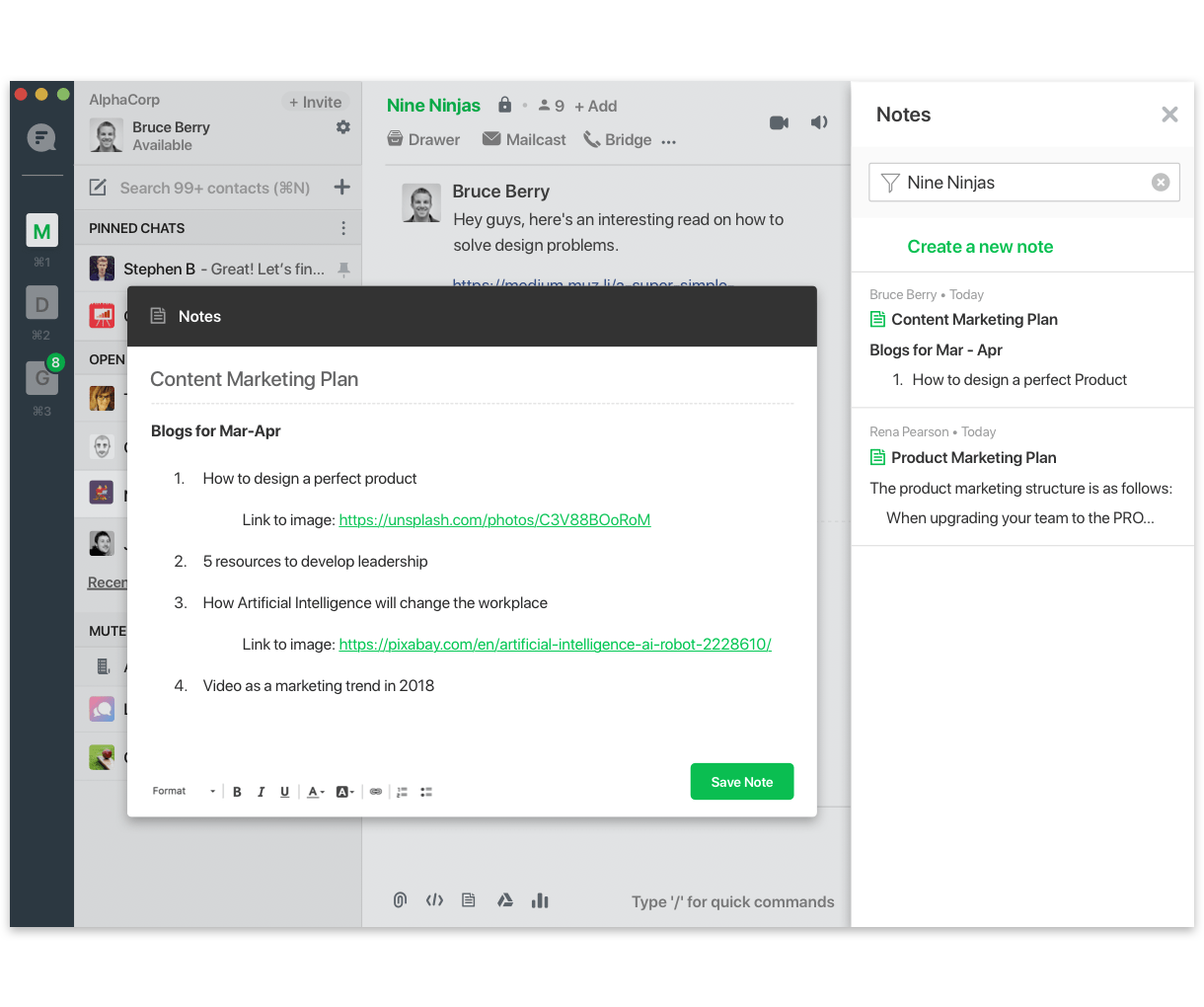 You can send rich notifications from your app to channels and direct chats
Empower users to interact with your app using custom slash commands
Let users invoke your app from the chat bar, attachment picker & app launcher
Extend Flock's UI to create an interactive and seamless experience for users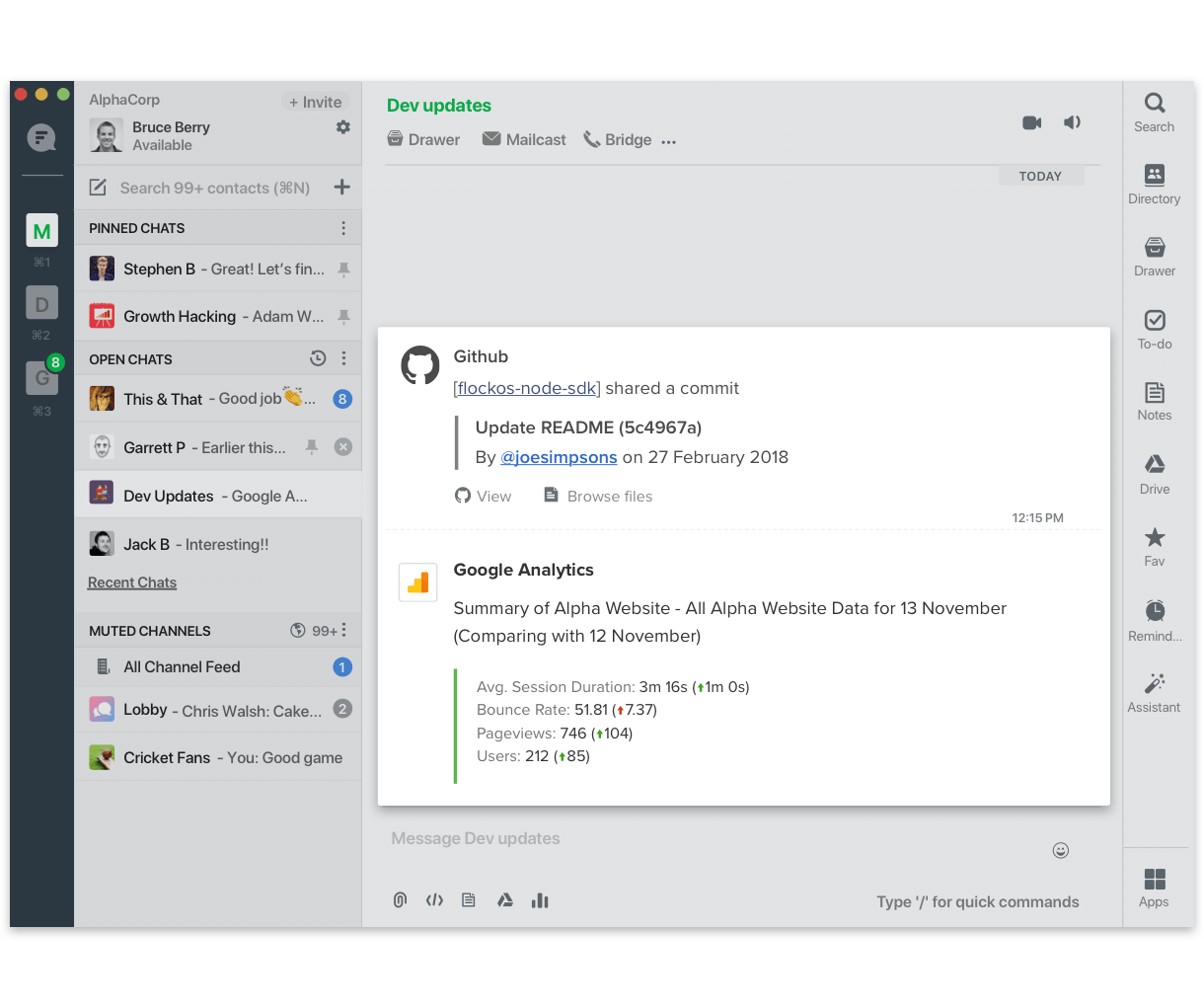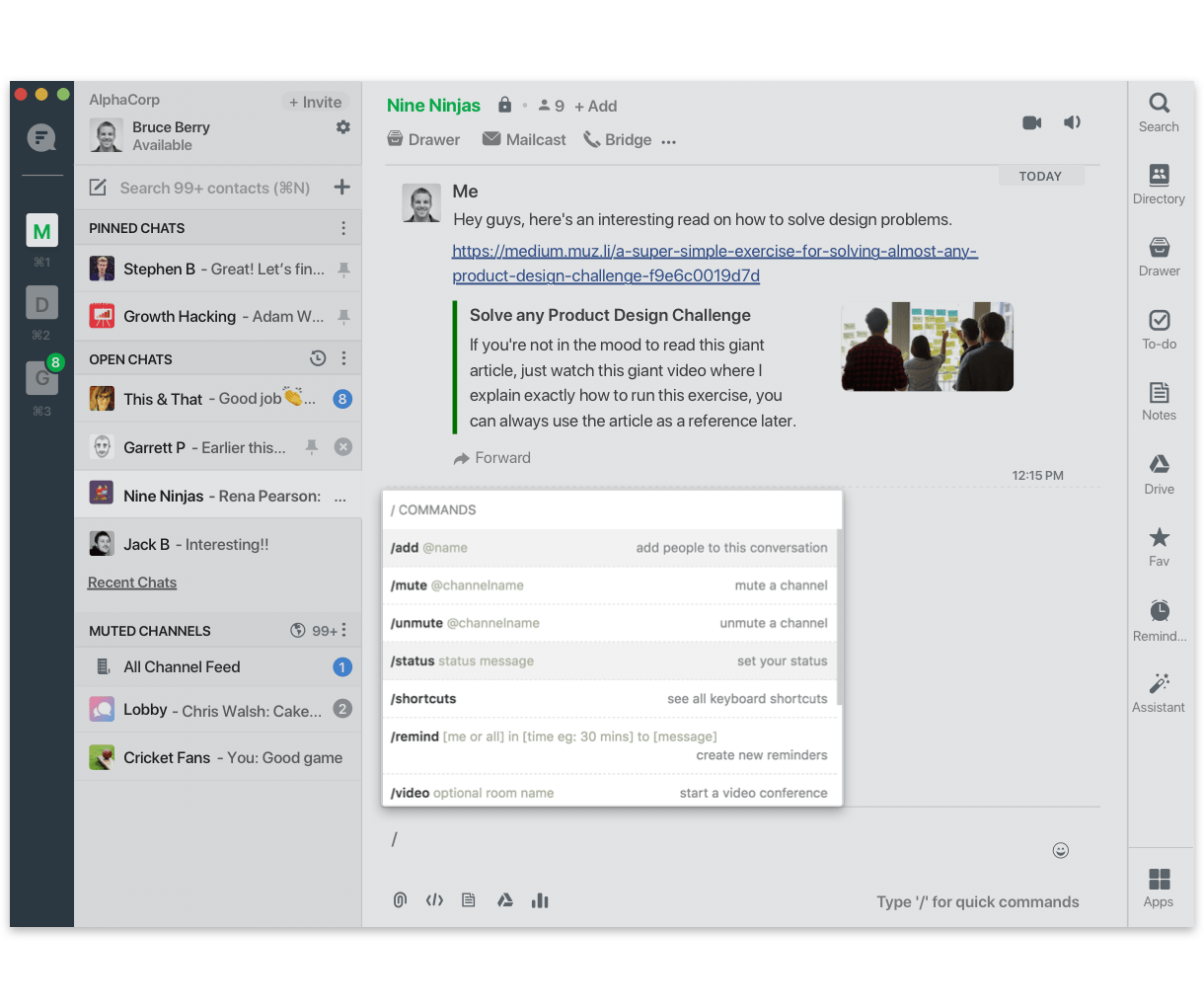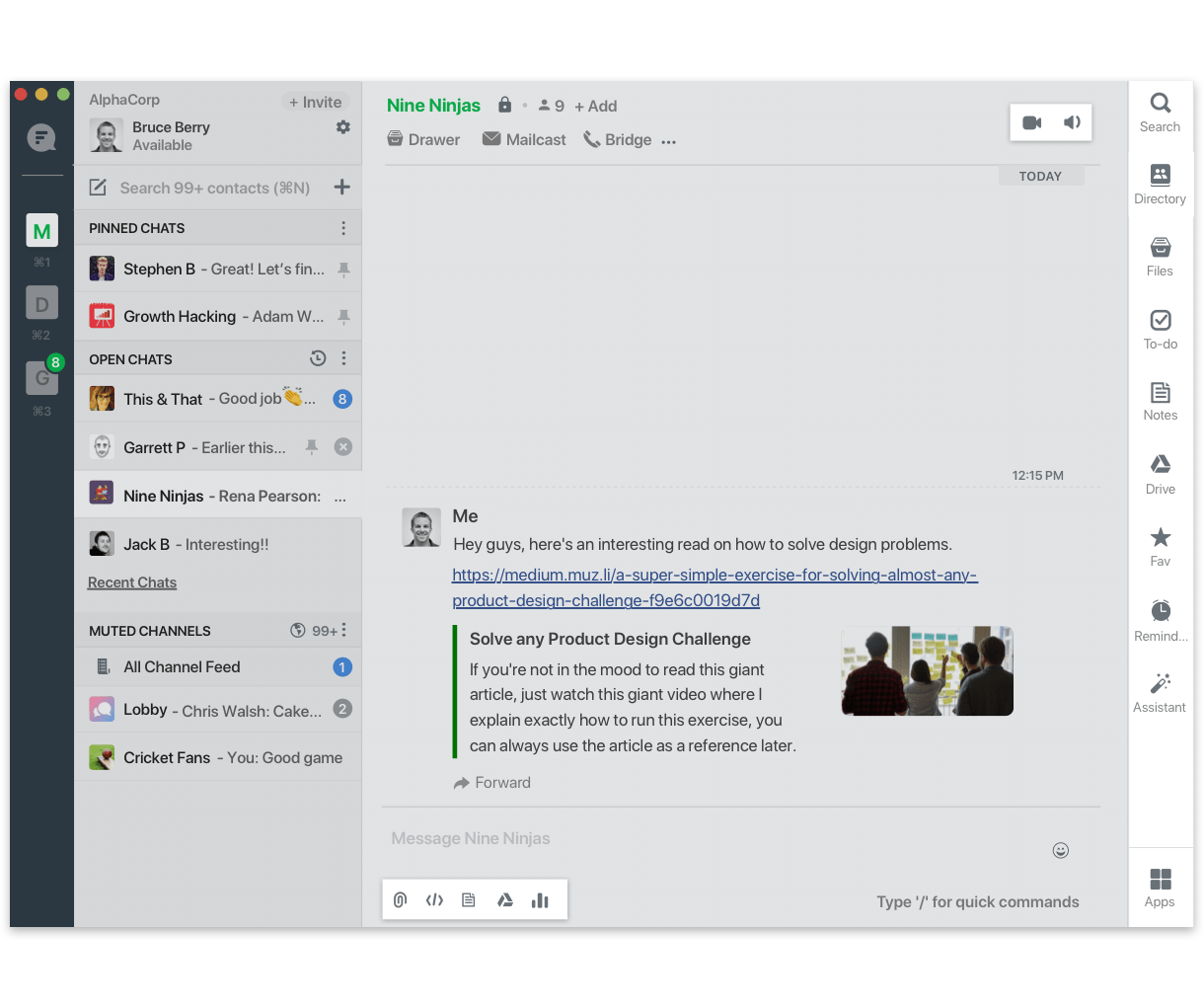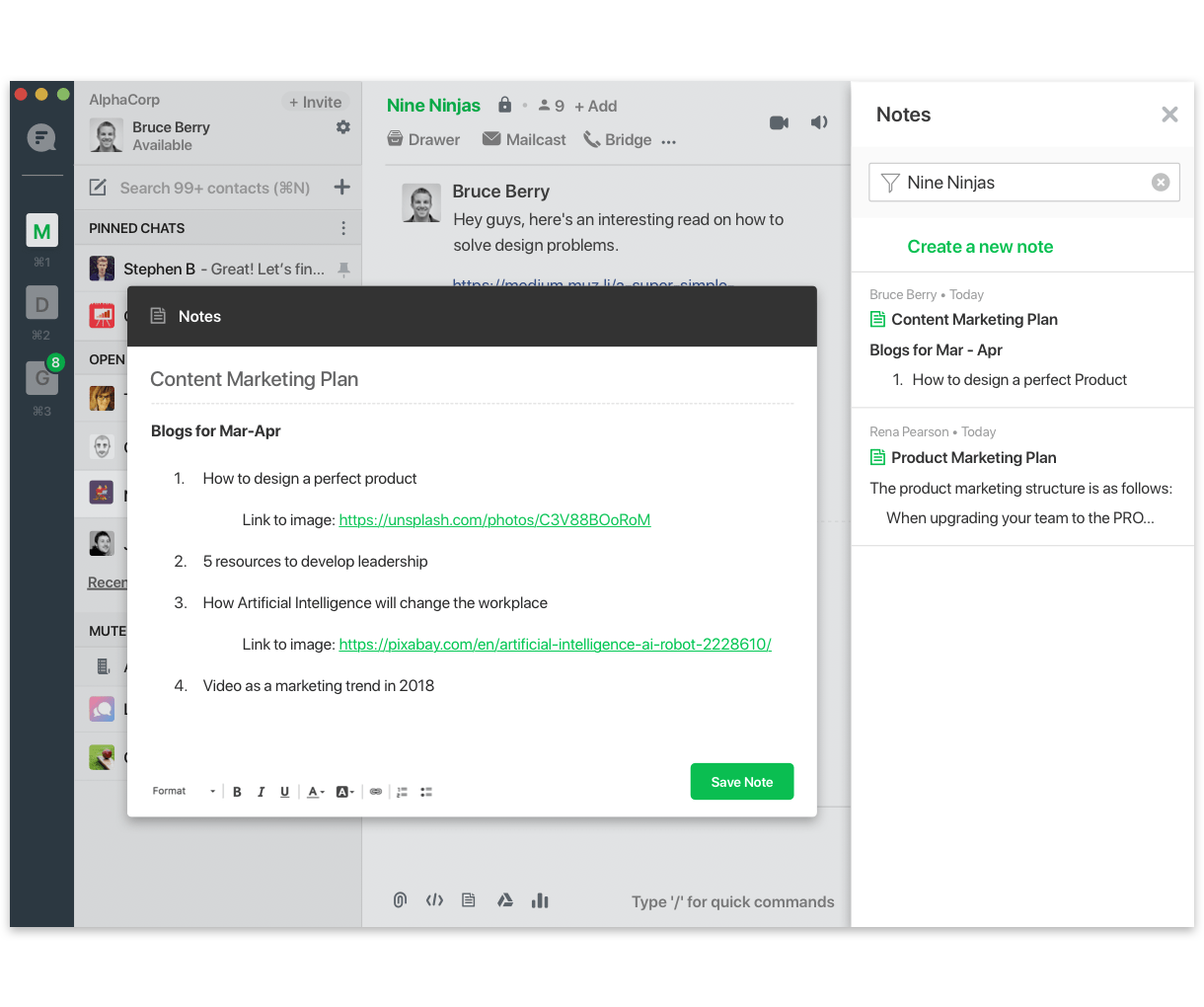 We take Security Seriously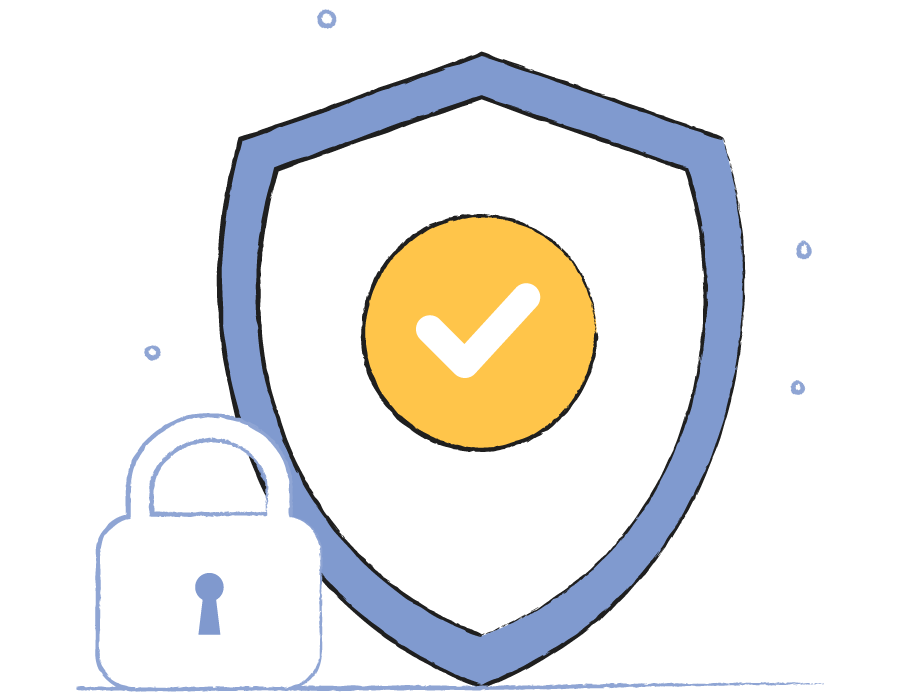 Data encryption using TLS 1.2

Hosted in the cloud by Amazon Web Services (AWS)

Privacy of messages and profile data

Strict controls over data access and user rights
Read about Flock's security practices
Start Your 30-Day Free Trial of Flock