Planes sencillos para todos
PLAN GRATUITO
$ 0
For small teams getting started
Search upto

10K

messages

5GB

file storage for your team

Limited

admin controls

Standard

Support
PLAN PROFESIONAL
per licensed user, per month billed annually
($6 billed monthly)
For midsize teams & companies
Search

unlimited

messages

10GB

file storage per licensed user

Enhanced

admin controls

Priority

support
Empresa
For large enterprises & organizations
Search

unlimited

messages

20GB

file storage per licensed user

Enhanced

admin controls

Dedicated

support
Compare All Features
FREE PLAN
PRO PLAN
ENTERPRISE
Messages
Direct messages & channels
Unlimited
Unlimited
Unlimited
Search for messages
10k of your team's most recent messages
Unlimited
Unlimited
Channels
Private & public channels
Unlimited
Unlimited
Unlimited
Auto-join Channel for all users
1
Unlimited
Unlimited
Announcement Channel for all users
1
Unlimited
Unlimited
Apps and integrations
Native Apps (Notes, Polls, Files, etc.)
All
All
All
Third-party apps & integrations
5 third-party integrations
Unlimited
Unlimited
Calls
1-1 Video calls
Group video calls
Upto 4 users
Upto 20 min/call
Upto 20 users
Unlimited duration
Upto 20 users
Unlimited duration
Screen sharing
file storage
Available storage
5GB/team
10GB/team member
20GB/team member
Security
OAuth with Google
Google Auth Controls
admin controls
Multiple team admins
1 team admin
Unlimited
Unlimited
Multiple approved domains

All users with email on these domains can sign up & join your Flock team without approval

1 approved domain
Unlimited
Unlimited
Control who can add users
Block domains

Restrict users that do not belong to the 'approved domains' list from joining your team

Custom Fields & User Groups
Manage file sharing permissions
Manage who can create channels
Active Directory sync with Microsoft Azure
Smart Channels

Channels created by using Custom Fields and User Groups

Restricted Channels

e.g. Only users who specify their function as "Design" can see and join the "Design discussions" channel

Unlimited
Unlimited
Autojoin Channels for a specified set of users

e.g. Users with the designation "Product Manager" are automatically added to the "Product ideas" channel

Unlimited
Unlimited
Announcement Channels for a specified set of users

e.g. All users located in New York are added to the "NY Announcements" channel

Unlimited
Unlimited
External Access
Multi-channel & multi-contact guests
Unlimited
Unlimited
Process Automation (coming soon)
Process Templates

A process template is a sequence of steps/tasks. e.g., A reimbursement process template may have 3 tasks - claim submission, manager approval, and finance processing.

3
Unlimited
Unlimited
Process Runs

A process run is when you use a process template. e.g., If 2 team members submit reimbursement claims then 2 process runs are counted for the template.

5 Runs per Template
Unlimited
Unlimited
support
Support
Standard
Priority
Dedicated
Uptime
99.9% Uptime
99.9% Uptime
99.9% Uptime
Get Started
Get Started
Contact Us
Frequently Asked Questions
How do I pay for the PRO plan?
You can pay with a credit card or via net banking (if you're in India). We will renew your subscription automatically at the end of every billing cycle.
What is a licensed user?
When upgrading your team to the PRO plan, you purchase and assign licenses to all active users (team members who've used Flock at least once in the past 30 days). You are billed for these licensed users on the basis of our fair usage guidelines
Can I cancel my PRO plan subscription at any time?
Yes, you can cancel your PRO plan subscription at any time. But, we'll be sad to see you go!
What is the billing cycle?
Flock offers you the option of monthly and yearly billing. In the yearly billing option, you pay as little as $4.5 per licensed user.
What do you mean by fair usage?
At Flock, we believe you should pay only for what you use. So, if a licensed user doesn't use Flock at least once in a 30-day billing cycle, we extend that license by a month. This way, you get your money's worth.
Have more questions?
Go to our Support page.
Nos tomamos tu seguridad en serio
Cifrado de datos usando TLS 1.2

Alojado en la nube por Amazon Web Services (AWS)

Privacidad de mensajes y datos de perfil

Controles estrictos sobre acceso a datos y derechos de usuario
Lee sobre Prácticas de seguridad de Flock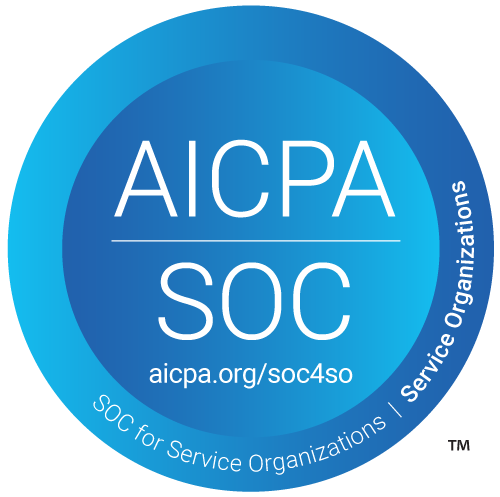 SOC 2 Compliant
Flock is now SOC 2 compliant. This means Flock follows very strict, best-in-class, audited processes to ensure the safety and integrity of user information.
Flock es gratis todo el tiempo que quieras
Cómo funciona Flock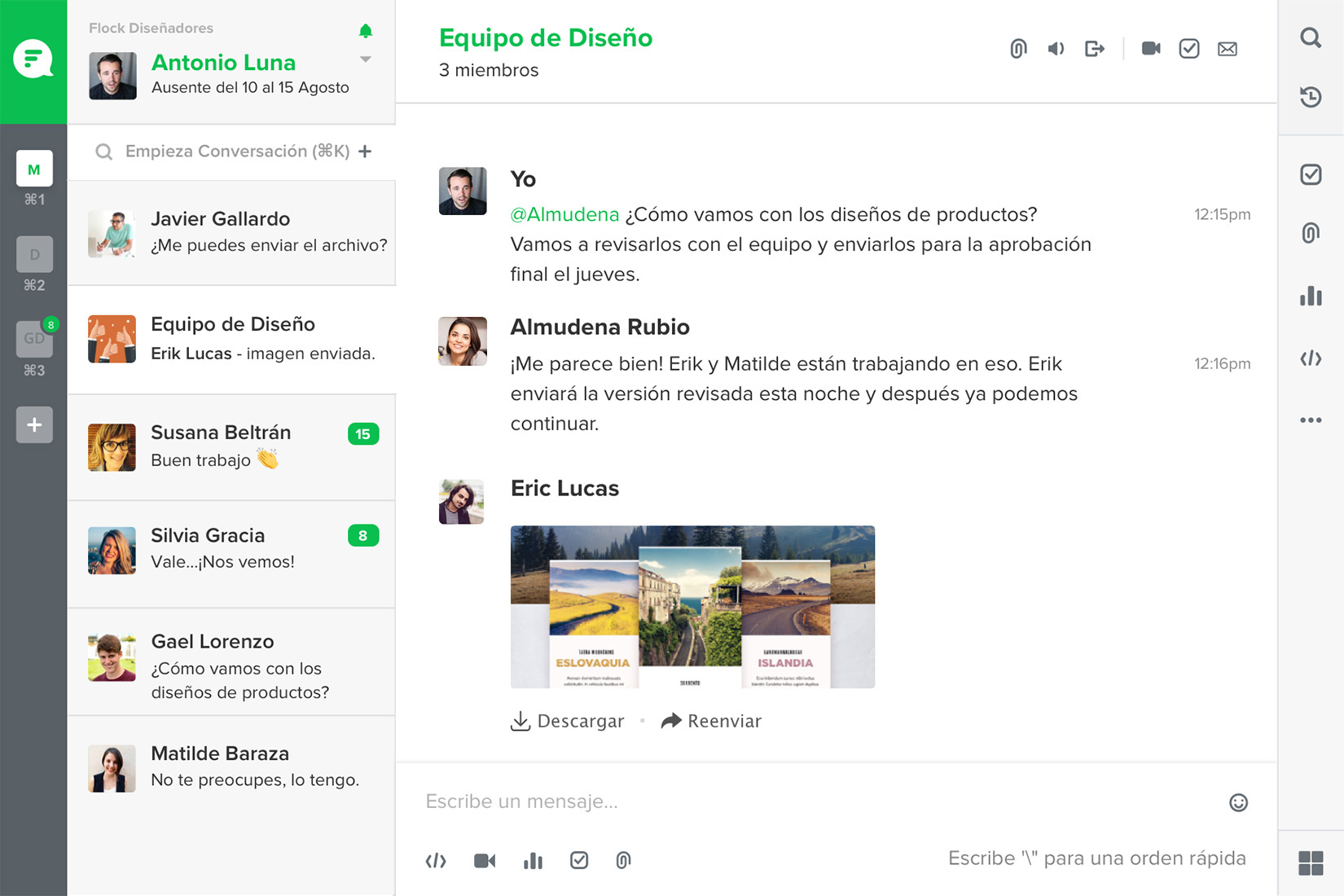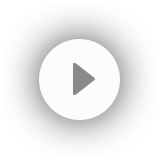 Chats 1-1 y en grupo
Envía mensajes directos o inicia discusiones de grupo en canales públicos o privados, basadas en proyectos, departamentos o intereses comunes.
Archivos compartidos
Comparte archivos, imágenes, documentos y hojas de cálculo con cualquier persona y encuentra fácilmente lo que compartiste.
Llamadas de audio y vídeo
Habla con equipos remotos a través de llamadas de audio y vídeo y comparte la pantalla con solamente un clic.
Apps de productividad
Mantén tus proyectos en marcha con el potente conjunto de aplicaciones de Flock- Tareas pendientes, Encuestas, Recordatorios, Notas compartidas y más.
Apps e Integraciones
Encuentra tus aplicaciones favoritas en la App Store de Flock, intégralas en Flock y para de cambiar entre múltiples herramientas para realizar tu trabajo.
Donde quiera que vayas
Con aplicaciones originales para iOS y Android, todo lo que dices y compartes permanece sincronizado para que puedas continuar donde lo dejaste.
Flock es gratis todo el tiempo que quieras